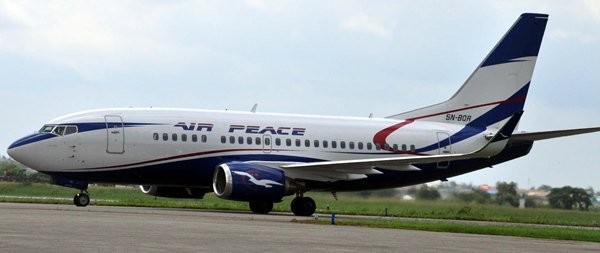 The Chairman of Air Peace, Mr Allen Onyema,  has appealed to the Federal Government to provide adequate security for airlines personnel across airports in the country.
The News Agency of Nigeria (NAN)  reports that Onyema made the plea while briefing newsmen on Monday in Lagos.
He said the appeal was informed by the attacks by some aggrieved passengers on employees of Air Peace and other domestic airlines.
Onyema said Air Peace had some challenges which necessitated the cancellation and rescheduling of flights.
He said :" On Thursday, the winglet of one of our aircraft, which was being towed within the very limited space at the ramp of the Murtala Muhammed Airport in Lagos to position for departure, had a partial contact with the stabiliser of another of our  aircraft.
" We subsequently declared the two aircraft unserviceable in line with our high safety standards
"While we were making effort to resolve the challenge with the decision to commence our operations very early on Friday, a truck operated by Skyway Aviation Handling Company rammed into another of our aircraft at the Benin Airport and the aircraft was again declared unserviceable."
According to him, the loss of the three aircraft, with each of them operating about eight scheduled flights daily, had an adverse effect on the airline's operations.
"Our decision to cancel or reschedule flights made some passengers to be aggrieved and they resorted to attacking our staff and damaging our facilities.
"This kind of behaviour is unacceptable and passengers should be educated to know that there is a limit to what they can do within the airport vicinity.
"I am calling on the government to provide adequate security for airlines employees in order to prevent such ugly incidents in the future, " he said.
READ: Authority urges Enugu residents to keep environment clean to check diseases
Onyema urged the government to ban the sale of alcoholic drinks at the departure halls of airports because experience had shown that some of the unruly passengers acted under the influence of alcohol.
He also decried the issue of multiple charges imposed on the airlines by the various aviation agencies, saying it had put many airlines out of business.
"If these taxes are not reduced, more airlines will crumble. No airline can survive this regime of taxes. Currently, we pay about 37 charges.
"The taxes have been here before this government and that is why we are appealing to them to streamline the charges as a form of support to the airlines," Onyema said.
He further identified absence of good governance structure in some airlines, high cost of aviation fuel and lack of modern facilities at airports in the country as other factors militating against airline operations.
Onyema, however, commended the Minister of State for Aviation, Sen. Hadi Sirika, for ensuring completion of the rehabilitation of the Abuja airport runway on schedule.

Load more