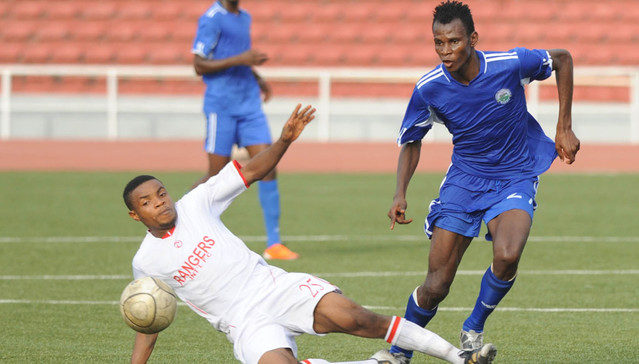 Rangers International Football Club of Enugu on Wednesday overpowered hard-fighting Wikki Tourists FC of Bauchi 3-2 to continue with their winning run in the ongoing Nigeria Professional Football League (NPFL).
Clement Bobby gave Rangers the lead in the 9th minute of play, before Ifeanyi George made it 2-0 in the 38th minute.
Wikki Tourists reduced the tally to 2-1 through Chukwudi Samuel, with a well-taken penalty kick in the 52nd minute after defender Papic Ousmane fouled their striker in the penalty box.
Ousmane increased the home team's advantage to 3-1 when he rose above Wikki Tourists defenders to nod home a corner kick from Ugwu Uwadiegwu in the 71st minute.
READ: Madrid keep tab on Barca, beat Deportivo 6-2
Shammah Tanze gave the visiting team hope when he reduced the deficit to 3-2 in the 79th minute of the game.
Speaking after the match, Wikki Tourists' interim coach, Mbas Mangut, praised his players' efforts in the second half.
Mangut said the players fought hard in the game to see if they could get something from the match but it was to no avail.
"Well, that is football and we have to go home and prepare for the second stanza of the league.
"As for the officiating, the referees did well except some calls they made which was not beyond human errors. But our defeat to Rangers cannot be attributed to that,'' he said.

Load more