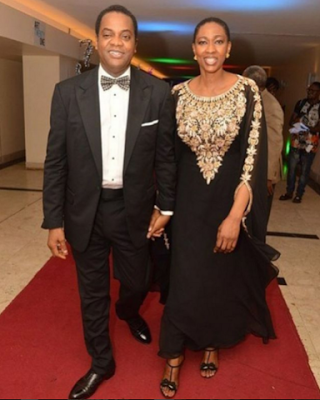 Donald Duke, Former Governor of Cross River, says music is an effective solution to reducing human stress.
He made this known at the end of a musical concert with the title "The Messiah by George Handel" by Lagos City Chorale, conducted by Sir Emeka Nwokedi.
The concert was held in the Shell Hall of the Musical Society of Nigeria (Muson) centre in Onikan, Lagos, on Sunday night.
According to Duke, who says he has passion for music, music has emotional influence that captures feelings of man, lighens up mood and keeps one away from unnecessary stress.
The former governor, who was the special guest of honour at the concert, said it was important for one to take time off work and allow for relaxation for longer life span.
He added that "music has a cynical impact that changes human feelings from depression to happy mood and that makes it necessary to take time off work for such concerts."
The music Director, Mr Emeka Nwokedi, also told NAN that music was the most effective means of communication because it sent messages in different moods – joyful or sad mood.
"Music is the most effective form of communication both in secular world or in form of worship. It provokes emotional feelings.
"Messages that cannot be communicated verbally can easily be communicated through music, especially good and well structured music, that can change negative traits," he said.
He noted that listening to good music had a way of subduing rage and hatred and then turn them to passion and love.
Nwokedi said that the Chorale, also known as Nigeria's Multinational Award winning choir, won a gold medal at 2016 World Choir Olympic held in Sochi, Russia, among 200 choir groups from 75 countries.
He added that the chorale had from 2011, won laurels and accolades at different world choral festivals in China, United States of America, Australia, Dubai, Latvia, Germany and Russia.
The chorale, with 17 international medals was founded in February 1988 by late Sen. Mere Adesina and Sir Emeka Nwokedi, which had it's maiden concert in Eko Hotel, Lagos in April 1988.
The chorale performed during the visits of former U.S. President, Bill Clinton and his Vice, Al-Gore, as well as John Major, former British prime Minister to Nigeria.
Highlight of the concert was the combined rendition of "Alleluia chorus" by the chorale and choristers from the audience, which was conducted by the former governor Duke.

Load more