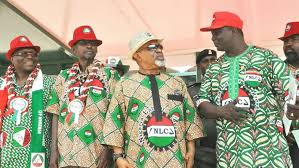 The Trade Union Congress (TUC) and the Nigerian Labour Union Congress (NLC) have called for a special salary for the employees residing in the FCT following the high cost of living in Abuja.
The Union Leaders made the call on Monday at the 2017 May Day Celebration in Abuja, with the Theme: "Labour Relations in Economic Recession: An Appraisal."
Mr Amodu Olayinka, TUC FCT Chairman, said the Federal Government and the FCT Administration need to urgently create and adopt a special salary structure for workers residing in the capital territory.
He said special salary would motivate and increase the morale of workers in Abuja as civil servants are the engine room of any government.
Olayinka explained that the prevailing economic recession and high cost of living in the FCT made it imperative for government to create a special salary structure for employees residing in Abuja.
According to him, the new injection of luxury buses for transportation by the Federal Capital Territory Administration (FCTA) has reduced the stress and suffering of commuters.
"We will appreciate if more buses can be provided and other MDA's to follow the same step to help ease the stress of the common man."
He commended the administration for the initiative to construct 400 housing units for staff of FCTA/FCDA, saying the union was looking forward to the commencement of the scheme and the collaboration of labour centres on the project.
According to him, the creation and completion of more access roads to link up area councils will reduce traffic congestion, stress and fatigue experienced by commuters on daily basis.
He, however, called on the FCT administration to urgently complete these roads; Orozo-karshi-Takalafia-Abuja, karshi-Garki access road, Gwagwa-deidei link road and Mararaba-Gurku-Asopada-Mpape road.
He noted that the FCT was becoming a dump site of refuse especially in the satellite town and this has serious health hazard on residents.
"We will like the administration to put relevant authority in charge to provide enable environment for proper sanitation which will help generate funds and create more employment for the citizens''.
Also, Mr Amaechi Lawrence, NLC FCT Chairman, said the non-regular payment of pension to retirees was becoming a recurrent issue and urged that remittance should be monitored against sharp practice of withholding some percentage of pensions of retired civil servants.
Lawrence said delay in staff promotion was demoralising and appealed to MDA'S to conduct promotion and release the result on time to boost the morale of workers and lay to rest stagnation in the service.
He, however, commended the Federal Government on its efforts towards economic revival with the launch of New Economic Reform Plan (NERP).

Load more