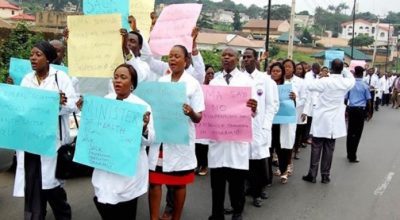 The Kogi Government on Friday, threatened to terminate the appointment of any of its staff, under its health sector, that participates in the ongoing indefinite strike by doctors in the state.
Mrs Kehinde Lawal, the State's acting Head of Service, made the threat in a circular she signed in Lokoja on Friday.
According to her, the state government will also adopt the policy of 'no work no pay' for any doctor on strike.
Lawal further said government was doing its best to make sure that all the salary arrears of cleared officers, by the screening committee, would be paid within the shortest time possible.
"It is equally noteworthy for every union to realise that the best way to resolve any issue is through peaceful dialogue and not strike action.
"In view of the foregoing, any staff of Kogi State Government that decides to go on strike is hereby notified that such person will have his/her job at stake.
"The policy of 'No Work No Pay' will be adopted for any worker that embarks on strike action," she said.
The state chapter of the Nigerian Medical Association (NMA) has directed its members to embark on indefinite strike, claiming that the state government failed to pay salaries of its members, among other demands.
READ: Power Tussle: Forum urges leaders to accept Court verdict
Barely 48 hours into the strike, health activities have been grounded in most state government-owned hospitals across the state.
NAN correspondent, who visited the state Specialist Hospital, Lokoja, showed that the ever busy hospital had few or no patients.
One of the patients, Mrs Jumai Usman, told NAN that no doctor was on ground to attend to her, adding that the development had forced many patients to patronise private hospitals.
She urged the state government and the NMA to dialogue and reach mutual agreement, to save the lives of patients, especially the poor who could not afford the high cost of bills at the private hospitals.

Load more