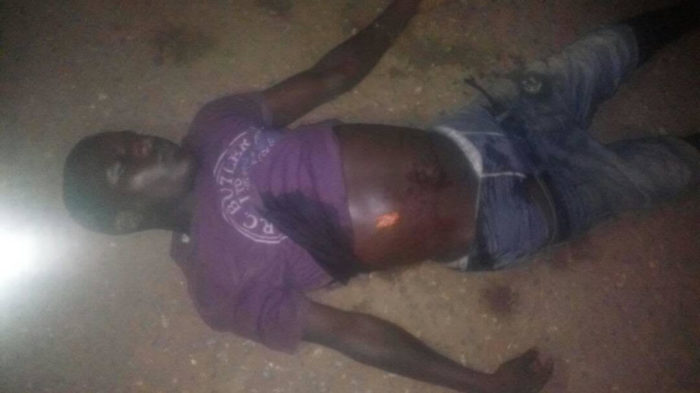 Family of a slain member of the Peoples Democratic Party (PDP) in Ogun State, Mr. Mutiu Agbaje, who died in his early 20s, has cried out to the government for help, saying that they were sure that he was killed by some thugs of an opposition party in the state.
They alleged that the opposition parties must have felt intimidated by the gathering and were hell bent on discrediting the PDP in the state.
His step-mother, who simply gave her name as Alhaja Riskat and pregnant wife, Mrs. Sarah Agbaje, who spoke in separate interviews with journalists, stated that it was a fact that the deceased was killed by a stray bullet from some party thugs.
"We gathered that Mutiu was killed on Wednesday, 5th of July, 2017 during a meeting hosted by the Chairman of the House Committee on Rural Development, Ladi Adebutu, who is a leading governorship aspirant of the party in the state for the 2019 general elections," she said.
Sources said that Adebutu was returning from the Ogun West Senatorial District meeting of the PDP in Aiyetoro, and he was said to have branched at Oke Ide area of Ota to pay a solidarity visit to some party members who had been arrested based on complaint by a rival faction of the party, led by one Prince Segun Seriki on Tuesday.
Eyewitness accounts had it that Adebutu had barely left when gunshots erupted and people started scampering for safety.
Sources hinted that crisis started last Tuesday, when Prince Segun Seriki visited the Oju Ore area of Ota to declare his governorship ambition for the 2019 general elections.
"We were reliably informed that some party members, who were supporters of another aspirant opposed Seriki's declaration in Ogun West Senatorial District," a source said.
They revealed that the ensuing commotion resulted in the arrest and subsequent arraignment.
Close sources however revealed that Adebutu came to the rescue of those arrested by providing them free legal services to secure their bails as members of same party.
This, it was gathered, did not go down well in some political circles in the state and some suggested this could have been responsible for the ambush of Wednesday evening.
Mutiu's wife, Sarah said, "Mutiu just told me he was going for a rally in Aiyetoro area of Ogun State and the next thing I heard was that he died.
"He did not fight with anybody to the best of my knowledge. Nobody told us that any evil would happen. My pregnancy for him is six months old and I want the government to help me because I am now helpless.
"I am sure he was killed by politicians because he was in their midst. He did not have any issue with any of his party members. He was not a trouble maker in his lifetime."
Sarah, who is just 16 years old and a fashion designing apprentice, said that she packed into his house, when she became pregnant for him, adding that her husband was a jolly good fellow, who loved her with all his heart.
Also speaking, Mutiu's father-in-law, Tajudeen Ahmed said that he was eating when they told him that his son-in-law had been killed.
"My daughter told me that Mutiu told her that he was going for a rally in Aiyetoro only for us to see his dead body. He was a member of the National Union of Road Transport Workers (NURTW) at Toll Gate area and he told me that he was sent packing by his boss because he was owing him some money.
"I promised to assist him with part of the money, when I was told that he had been killed. I expected him to go back to work after getting some money before he went for the rally. I even said I was going to help him with part of the money. I believe that the whole thing is political. He had no problem with anybody," he said.
Mutiu's step-mother revealed that she trained him and his siblings and that he used to work with the NURTW at Toll Gate, while confirming that he had issues with his boss in his place of work.
The distraught woman lamented that the deceased brought his wife to her, when he impregnated her.
"His father died some years ago. He used to be a conductor before I stopped him. His father died a long time ago and I have been their mother. I told them not to abort pregnancy. I was expecting Mutiu and his wife and I did not see them.
"I was expecting him and his wife, but I did not see them. I was a bit surprised. Later, one of his siblings knocked at my door, when I had already slept only for him to tell me that Mutiu had been killed in Oke-Ide and I fainted immediately.
"Then I just found myself outside and his mother had naked herself, when I got to her house. I insisted that I must see his dead body. I saw him and I thought he had not died, his intestine was outside and I started cursing. I am not happy at all.
"They have really destroyed my life. Mutiu was not a hooligan he never smoked cigarettes or marijuana. He was on white Muslim garment, when he was killed. He was an Alfa, a Muslim cleric.
"His corpse is in Ifo area of the State and he is from Iyesi area in Ota, Ogun State. He was killed by stray bullet. His wife is pregnant and his mother is helpless. The government should please help us," she said amidst tears.
Alhaja Riskat used the opportunity to call on the government to release the corpse of the deceased to the family for proper burial, wondering why they were still keeping it in their custody.
However, a PDP chieftain in Ogun State, who pleaded anonymity, stated that it was unfortunate for their party faithful to be killed in such a dastardly manner by an opposition group.
He added that the incident was a clear indication that the APC-led government of Governor Ibikunle Amosun could not secure lives and properties in Ota area of the State.
"The young man was part of us and he was an active member of our party. We just heard gun shots everywhere after Adebutu had left the venue of the gathering.
"We are however, not cowed by the antics of the opposition as we are determined to bring good governance to the people of Ogun State. The gathering was meant for just about 25 people before it was invaded by hoodlums and thugs of the opposition," he said.
Speaking in a telephone interview on the matter, the Public Relations Officer of the Ogun State Police Command, Mr. Abimbola Oyeyemi promised to get back to us as he said that he needed to make inquiries about the incident from the Divisional Police Officer (DPO) of Sango Police Station.

Load more