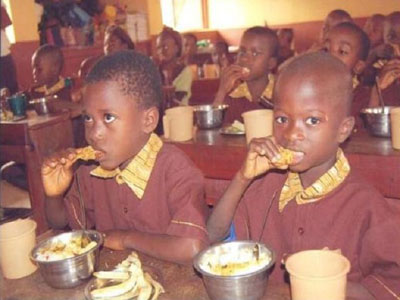 Forty-two (42) food vendors, under the National Home Grown School Feeding Programme, have been supported with kitchen utensils by Ijebu-North East Local Government Area, Ogun.
Mr Sunday Onafuye, Chairman of the council, made the donation on Thursday at the council secretariat in Atan, Ogun.
While presenting the cooking utensils to 23 food vendors, Onafuye recalled that he had earlier extended a similar gesture to 19 registered food vendors with a view to enhancing their services.
The kitchen utensils comprised of pots, pans and spoons among others.
The council boss enjoined the beneficiaries to make judicious use of the items donated so that the objectives of the food programme could be achieved.
Speaking on behalf of the beneficiaries, Mrs Yetunde Abass, appreciated the council chairman for the support.
She assured the council that the items would aid their commitment toward providing quality services.
The feeding programme, which was launched by the Federal Government earlier in the year, was aimed at providing nutritious meals to pupils in public schools across the nation.