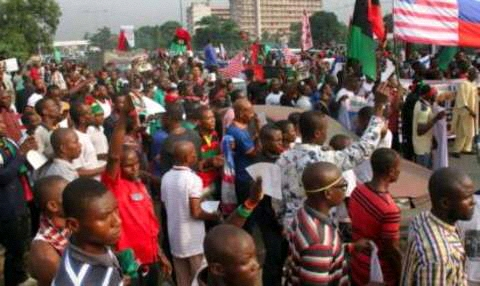 The Rivers State Police Command has accused members of the Indigenous People of Biafra of attacking its officers and killing one of them in Rivers State.
Commissioner of Police in Rivers State Zaki Ahmed told journalists at the Command's headquarters in Port Harcourt that the incident occurred today at the Oyigbo Junction where mobile policemen were stationed.
It comes a day after IPOB members clashed with members of a community in the area.
After receiving distress calls from members of the community on Tuesday, the police had gone there and dispersed the IPOB members.
The Police Commissioner said the IPOB members regrouped and attacked the mobile police men, killing the sergeant, injuring two others and setting their van ablaze.
Ahmed said, "Members of the Indigenous People of Biafra, without noble authority, blocked the entire Aba-Port Harcourt Expressway and attacked some residents. The same group, which has no justification for their action, also attacked a police van from Police Training School, Nonwa enroute to Port Harcourt International Airport and burnt the police van.
"The driver, Inspector Emaikwu Ochoche was badly injured and is now on admission. They also carted away one AK-47 Rifle with 60 rounds of live ammunition and one Beretta Pistol with eight rounds of live ammunition.
"At the end of their rampage, many vehicles were damaged and stores were burnt. The timely response of the police restored normalcy and brought the situation under control as I made adequate deployment to arrest the situation."
The police commissioner, who said the mob was dispersed with minimum force, added that 23 IPOB members were arrested in the process of restoring law and order.
But that wasn't the end of it.
"The command was awakened to yet another sad incident today at about 00:10 hours where some dare-devil IPOB members regrouped and launched a surprise attack on the mobile policemen stationed and Oyigbo Junction, killing a police sergeant," Ahmed said.
They also set the patrol van used by the security operatives ablaze, the police commissioner said, adding that those arrested will be arraigned as soon as the investigation into the incident is concluded.