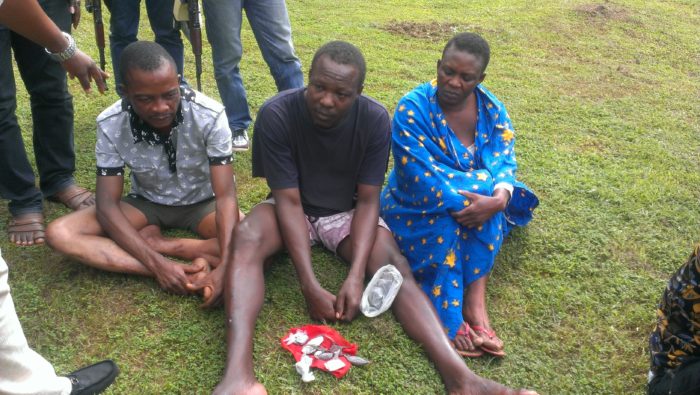 Jethro Ibileke/Benin
A 47-year-old witch doctor, Akugbe Aisevbo, has been arrested and paraded by Edo State Police Command for allegedly aiding and abetting human trafficking.
He was accused of preparing charms to aid illegal migratiom to foreign countries, for the victims to avoid mishap on their ways and be successful abroad.
Aisevbo was among 55 suspects arrested and paraded by the State Police Commissioner, Haliru Gwandu, before journalists in Benin-City for various crimes ranging from armed robbery, murder, cultism, human trafficking and kidnapping.
One of the suspects, Mrs. Rhoda Okolomi, while explaining her involvement in the saga to journalists, said two teenage girls expressed their desires to travel abroad for greener pasture.
Okolomi said she took the girls to one Arthur Ogbevoen, a suspected trafficker, who in turn, took the girls​ to the witch doctor to prepare charm for them to avert bad luck.
"As for the two girls, it was Arthur Ogbevoen who brought them for me to assist them. He said they were traveling to Burkina Faso. When he brought them, I told him that one of them has problem and that she should not be allowed to embark on the journey but Arthur insisted I work on both of them.
"So, I bathed both and gave them concoction to drink. One thing I always do is that before I give any of my clients concoction to drink, I make sure I give it to my children to partake from it first. One of the medicines I also put in her body is that if any man that has ailment wants to make love with her, his manhood will not get erected. I also gave her charms​ against accident," Aisevbo said.
He, however, denied shaving her pubic hair and did not sleep with her.
On his part, Ogbevoen who admitted that he took the girls to the witch doctor, confessed that the trafficked persons were to paid him 400,000 cfa each.
One of the traffic victims, simply identified as Sarah, was also paraded to journalists.