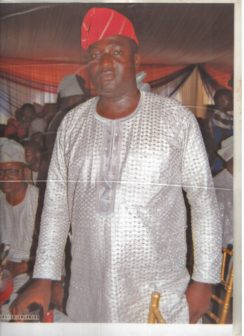 Dedeigbo Ayodeji
Following the appointment of Otunba Gani Adams as the Aare Onakakanfo of Yoruba land, a former Chief Security Officer to the OPC National Coordinator, Chief Rasak Arogundade, a'k.á Saddam, has advised him to leave the Oodua Peoples Congress, to prevent a clash of interest.
Arogundade gave this advice at a briefing held at the New Era Secretariat of the group at Alapere, Ketu, Lagos State.
The OPC chieftain said there is nothing for Otunba Adams to oversee again in OPC now that he has been appointed the Aare Onakakanfo of Yorubaland.
"There is nothing for Otunba Gani Adams to oversee again in OPC now that he has been appointed Aare Onakakanfo. He should face the traditional title conferred on him and leave the OPC. He cannot effectively handle both offices," Arogundade said at the briefing attended by many OPC supporters.
He also countered the OPC leader's assertion that he single-handedly built the OPC.
"OPC is not Gani Adams sweat alone. OPC was formed through collective effort. All members contributed to the growth of the organisation physically, mentally and spiritually.
"Moreover, some people paid the supreme price for OPC to survive and grow. How can one person now say that a large organization like the OPC is his sweat.
"If Gani Adams could say OPC is his sweat, then what about Dr. Frederick Faseun (Founder of OPC), Abraham Adesanya, Tony Egurube and seven others who formed the group in the name of all Yoruba. Gani was selected to administer the group, he is not the founder. Faseun and Abraham Adesanya with some other notable people formed the group.
"Gani Adams has now appropriated the OPC as his personal group. Gani Adams frustrated the efforts of most of the founding members to achieve his aim and this is why he is saying that OPC is his sweat. The glory of OPC as of today is a collective glory not a personal glory.
"The journey of the OPC 'has led to the formation of many Yoruba self-determination groups, including the Oodua Liberation Movement (OLM), Yoruba Revolutionary Movement (YRM) and others. They were all formed out of OPC.
"When Yoruba leaders at that time noticed that there was proliferation of the groups, they collapsed all of them into one body called the Coalition of Yoruba self determination organizations (COSEG)" Arogundade narrated.

Load more