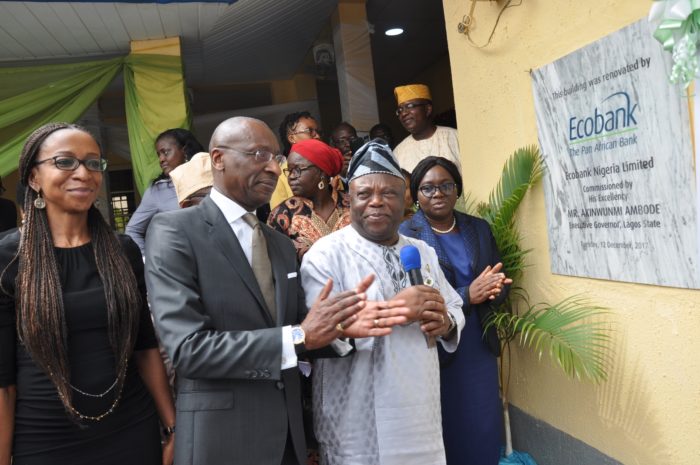 The Lagos State Government has commended Ecobank Nigeria for renovating and furnishing the main building at the Agbala Pediatric Centre in Ikorodu as part of the bank's corporate social responsibility effort directed at women and children.
Founded in 1956, the Agbala Pediatric Centre has contributed in no small way to maternal healthcare within the Ikorodu area of Lagos.
Speaking on behalf of the State Commissioner for Health, Dr. Jide Idris, the Chairman, Lagos State Health Service Commission, Dr. Bayo Aderiye said the contribution by Ecobank would go a long way in resuscitating healthcare delivery at the Centre.
He said that the children's pediatric Centre which is a strategic health facility for residents in Ikorodu and environs had long desired the face-lift.
Dr. Aderiye called on other corporate bodies to support the government in enhancing strategic public facilities that have direct impact on the people.
Also speaking during the ceremony, the Managing Director, Ecobank Nigeria, Charles Kie said the renovation of the Agbala Pediatric Centre by the bank was a promise kept as part of a week-long Environmental sustainability campaign in line with the business mantra of Ecobank, which is to build a world class Pan African bank and contribute to the economic development and financial integration of Africa.
According to Mr. Kie, the guiding principle for corporate social responsibility activities by the bank was to give back and contribute effectively to the communities in which it operated.
In his words: "Ecobank is a responsible and caring corporate citizen, assisting people and underprivileged groups to enhance their lives. We also encourage creativity and excellence among Africans, especially the young people, who we see as the future of our continent".
He said the vision of the Agbala project revolved around the need to create a conducive healthcare environment for the most vulnerable– women and children.
He added that the bank's gesture was also a far-reaching compensation to the healthcare providers at the Centre for their endless years of unflinching support to the sustenance of an endearing society.