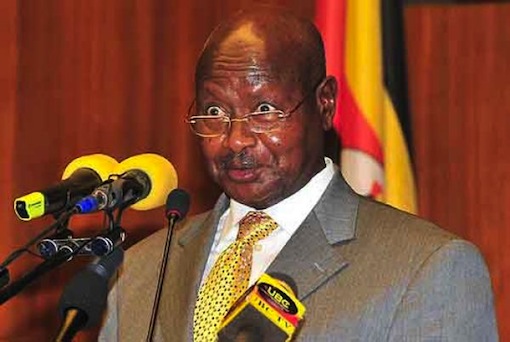 Ugandan lawmakers had heated arguments and traded insults during a parliamentary session about a draft bill that seeks to remove the country's presidential age limit.
The legislation would allow Uganda's long-time President Yoweri Museveni to run again by removing a clause that prevents candidates older than 75 from running for president.
Museveni, 73, has been in power since 1986 and is not eligible under current law to stand for president at the end of his term in 2021.
Parliamentary speaker Rebecca Kadaga suspended several opposition legislators who refused to sit down and lower their voices.
The atmosphere was tense elsewhere in Kampala, with anti-riot and military police deployed at key points throughout the capital and heavy police patrols near parliament.
Thousands of residents had come out onto the streets, wearing red to signal their allegiance to the opposition's demands to keep the age limit.
Parliament broke out in brawls for two consecutive days in September when legislators decided whether the bill would be drafted.
The bill could be put to a vote later this week and is likely to pass when it does: Two-thirds of the 451-member chamber are members of the ruling party