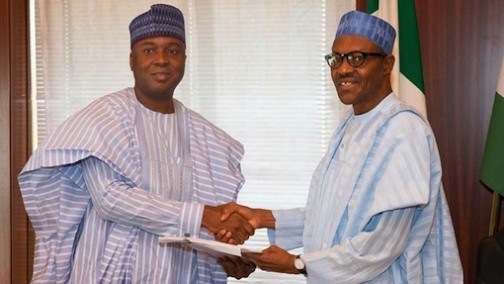 President Muhammadu Buhari has congratulated Senate President Bukola Saraki on his 55th birthday.
Buhari's congratulatory message was contained in a statement issued by his Special Adviser on Media and Publicity, Mr Femi Adesina, in Abuja on Tuesday.
The president joined all members of the National Assembly, friends and family in celebrating the life of a distinguished Nigerian who has made his mark on the political scene.
Buhari said that at 55 and having served as a two-term governor, Senator and Senate President, Saraki had demonstrated commitment in the pursuit of a prosperous, united and peaceful Nigeria.
He prayed to God to grant Saraki more years of good health, wisdom and fulfilment in the service of God and country.
Saraki, who studied medicine at the London Hospital Medical College of the University of London from 1982 to 1987 was born on Dec. 19, 1962.
It is believed that Saraki's political career started when he was appointed by former president Olusegun Obasanjo as a Special Assistant on budget issues in 2000.
Saraki, a two-term governor of Kwara under the umbrella of the then ruling party, the Peoples Democratic Party (PDP) between 2003 and 2011, later joined the All Progressives Congress (APC) in 2015.