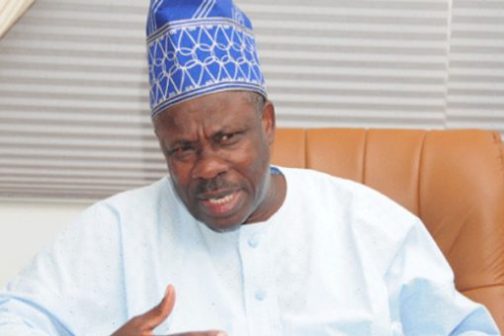 Adejoke Adeleye/Abeokuta
Governor Ibikunle Amosun of Ogun State has donated N49.5million to Community Development Associations (CDAs) in the state.
Amosun said he gave the money to support CDAs executing one or two projects in the development of Ogun State.
In his remarks at the 2017 Disbursement of Grants-In-Aid to community (Self-Help) projects and Subvention of Community Development Organisation held at Oke-mosan, Governor Amosun appreciated the people for their support and cooperation these past six and half years.
"CDAs have been a potent and amiable associations in the development of Ogun. Your contributions have been very potent," Amosun stated.
He promised to give additional N5million for ongoing building projects of CDAs.
He implored the people to embrace the policies of government and pay their taxes in order for the state to develop more than it is now.
In his remarks, the state Commissioner for Community Development and Cooperatives, Hon Francis Gbenga Ademosun said: "there are eight thousand and nineteen (8,019) registered CDAs and two hundred and ten (210) Area Community Development Committees (ACDCs) in the state.
"These organisation have embarked on and are still embarking on various self-help projects which have made life more meaningful to the people.
"Such projects range from construction of schools, police post, health centre, town hall, security gates, bridges and culverts, provision of portable water, grading of roads and provision of tranformers and so on."
"Documented year 2017 self-help projects are worth over N#400 million, while projects executed by various CDAs since the inception of this administration in 2011 are over N2 billion.
"It is in recognition and appreciation of the complementary role of these associations as partners in progress that the state governor, Senator Ibikunle Amosun, graciously released the šum of N49.5million for this year's disbursement of Grants-In-Aid to worthy self help projects in the state."
Ademosun made it known that the disbursement of Grants-In-Aid is for 216 CDAs and subventions for 210 ACDCs, 20 Zonal Community Development Committees, three senatorial community development committees and the state council.
He added that his ministry had trained 1600 community leaders in citizenship and leadership courses at the Social Development Institute (Shasha), Iperu, and over 700 communal and domestic conflicts were resolved in the communities.
"This is to ensure that we have a crop of well trained community leaders with the capacity to impact positively on their respective communities," he stated.