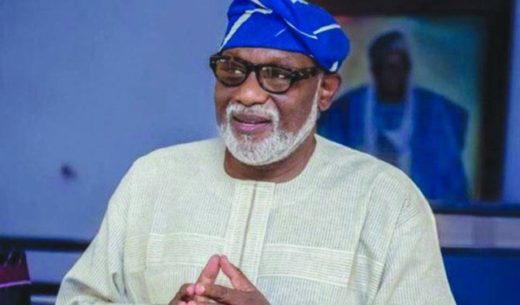 Gov. Oluwarotimi Akeredolu of Ondo State on Friday presented an appropriation bill of N171 billion for the 2018 fiscal year to the state House of Assembly for scrutiny and approval.
The estimates, christened "Budget of Progress", earmarked N81.521 billion for recurrent expenditure and N68.096 for capital votes.
He said it reflected the collective aspiration of the people of the state, after having consulted widely to incorporate the input of all stakeholders.
Akeredolu said the budget captured the essence of his administration's blueprint, adding that the document was christened "Budget of Progress" to achieve the programmes in his administration's Strategic Development and Policy Implementation.
According to him, his administration will pursue activities targeted at encouraging productivity and creation of real opportunity for the people in the next fiscal year.
He therefore, asked the state Assembly to give the budget realistic scrutiny before approval.
Akeredolu also lauded the house for passing all the Public Financial Management laws which had been pending before the House for six years.
"The 2018 budget is designed to achieve stability, fiscal re-prioritisation and consolidation to create the base for sustainable growth and development.
"It is focused on reversing the growth of debt, unsustainable deficits and the burden of interest payments which is almost unsustainable.
"The 2018 budget estimates will focus on rebuilding the state's economy through prioritised investment on infrastructure and agriculture-related activities."
The governor listed the objectives of the budget, including intensifying efforts on independent revenue initiatives, massive infrastructure development, wealth creation through empowerment of youths, artisans, farmers and market women.
Other objectives are to enhance the community development through improved collaboration with communities, among others on the revenue projection for the 2018.
Akeredolu said his administration was mindful of the challenges posed by inadequate revenue to accomplish the budget's objectives.
He, however, announced the commissioning of some consultants to complement the existing efforts on revenue generation and collection.
"The expected increase in the contribution of independent revenue to total revenue cannot be achieved in a day and as such would be gradual.
"Hence, revenue inflow from the Federation Account will still contribute to the larger portion of the total collectible revenue for the state," he said.
The Speaker of the House, Mr David Oleyelogun, described the budget as life-touching document.
Oleyelogun promised the governor that the house would give expeditious and necessary approval to the budget.
He added that the 26 members would support the efforts aimed at implementing the budget for the benefit of the people of the state.
This is the first official budget presentation by Gov. Akeredolu to the House since he assumed office on Feb. 9.