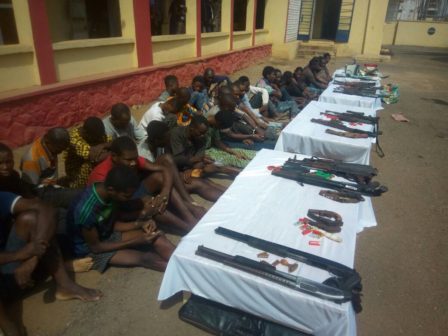 Adejoke Adeleye/Abeokuta
The Ogun State Police Command has arrested 45 kidnappers, armed robbers, car snatchers and fake licence officers.
One of the suspects is Ayo Momodu, who referred to himself as a pastor in Abuja.
Ayo claimed to have been arrested based on a report by his girlfriend who gave him a car and wanted to collect the car back because they were no longer together.
However, Ayo had sold the car and collected #400,000 to bury his mother.
Also among those paraded was one Taiwo Akindurodemi, 28, who allegedly killed his fiancee Shedrack Adetuke Lucia for money rituals.
Our correspondent gathered that Taiwo wanted to use Lucia for money rituals on the night she was supposed to travel out of Nigeria to Canada.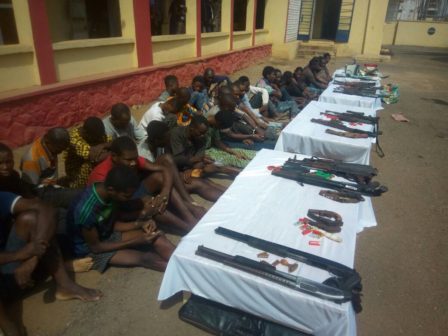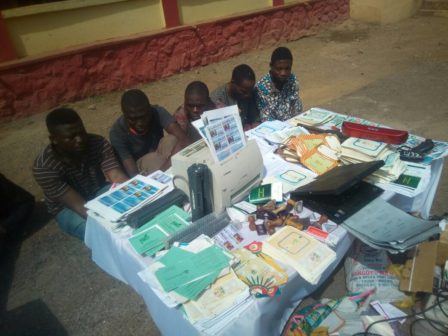 Taiwo told newsmen that he collected a ring from a clergy man who told him she would not die but will never remain the same. But the lady died.
Members of gangs who specialise in robbery, snatching of cars, motorcycle and cultism were also paraded.
Those paraded include Yusuf Asorowo 25,Lawal Owolabi 20, Samuel Ifasesin 45, Ibrahim, 18, Femi Aresu, Musa Oyewunmi, Kola Adebisi, Sunday Ogbu, Kazeem Rufai, Taofeek Alayo, Jude David, Samuel Lucky, Segun Bella, Amino Sadiku, Kazeem Adekola,Isreal Adams, Opeyemi Okegbenro, Alli Chibike and Patrick Nwadagba, Yusuf Ayinde,Ajobola Samuel, Amosan Oluwaseyi, Segun Shomuyiwa, Oshingboye Olatoye, Yakubu Audu, Emeka Eze, Chukwumba Tobenna, Philip Momodu and two brothers, Tope and Ibrahim Adio, who robbed one Sulaiman Isa of his motorcycle at Owode Yewa.
Recovered from the gangs were four Ak-47 rifles, one AK 49 , 15 pump action guns, 17 locally made cut-to-size gun, 93 live cartridges and a Lexus RX 330 jeep.
Paraded with the suspects were teenage kidnappers and an Indian hemp dealer arrested with 114 bags of Indian hemp, Andrew Koku.
Andrew told newsmen that he killed his own child in his his mother's presence because she refused to help him take care of the child when the mother of the child left.
He also made it known that he had been warned concerning marrying his wife but he refused, so when his wife left him he was left with no choice but to kill the baby by smashing the child with a cutlass.
TheMeanwhile the Commissioner of Police CP Ahmed Illiyasu in his press briefing promised to bring more criminals down as long at they will not stop committing crimes.
Also there is no room for any criminal in any corner of Ogun state. They will be trapped down. He said