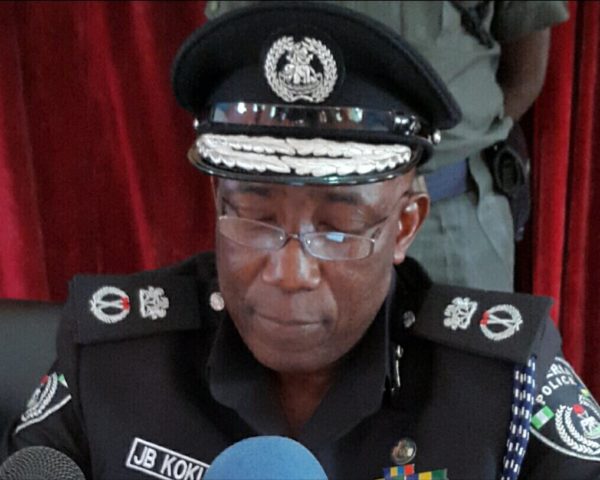 Jethro Ibileke/Benin
A 23-year-old National Diploma Civil Engineering student of Auchi Polytechnic, Auchi, Kingsley Orion, has been arrested by operatives of Edo State Police Command, for burglary and robbery.
Also arrested and paraded with Kingsley is Ehiati Osaretin, a 22-year-old welder, while the third accomplice who's name was not given, is on the run.
The suspects were among "62 notorious criminals" arrested by operatives of the State Police Command and paraded before journalists in Benin on Wednesday, by the State Police Commissioner, Mr. Johnson Babatunde Kokumo.
It was gathered that the three hoodlums broke into the house of their victims, 89-year-old Madam Imasogbonre Enahoro and her daughter, Mrs. Maroline Ajibola, at about 5 pm, on November 17, 2017, at Edimotutu, Igueben, in Igueben local government area of Edo State.
They were said to have tied their victims' hands and legs with rope and applied super glue to seal their mouths and locked them up inside a toiket, in order to prevent them from shouting for help.
Narrating their ordeal, Mrs. Ajibola said: "At about 5 pm on November 17 last year, when my mother was home alone, the three boys broke into our house, they tied my mother down and gummed her mouth with super glue.
"On my way coming, I opened the door and met them inside my house. They also tied me down and gum my mouth with super glue. They later took my Camry car away. It was my husband who later came in and rescued us."
Also relating her experience, the octogenarian, Madam Enahoro, said: "This small boy, [Ehiati Osaretin], gummed my mouth, tied my leg, like rabbit, slapped me and then threw me into the toilet."
Madam Enahoro said she was later rescued and taken to hospital for two weeks for treatment.
Kingsley, the civil engineering student who confessed to the crime, said he took to robbery to raise money to pay his last semester's school fees and also complete his project work.
"It was a good day when my friend came to my house and suggested that we have to snatch a car to raise money. We later met at another place and decided to go to the woman's house.
"Initially, we did not go for the car, but when we got to the woman's house, we did not get the money, so we decided to take the car," he confessed.
Kingsley also confessed that they tied their victims' hands and legs with ropes, before taking away the car.
He, however, said that it was sellotape they used to tied the mouth of their victims.
The Auchi poly student said he was arrested after the police got his phone number and tracked it.
Osaretin, the 22-year-old welder, who said he lives in the same house with his Kingsley, partner in crime, also confessed to the crime.
Their third accomplice however escaped arrest.
The State Commissioner of Police, Mr. Johnson Babatunde Kokumo, who paraded the suspects, said his men will not rest until the State is rid of crimes​ and criminality.