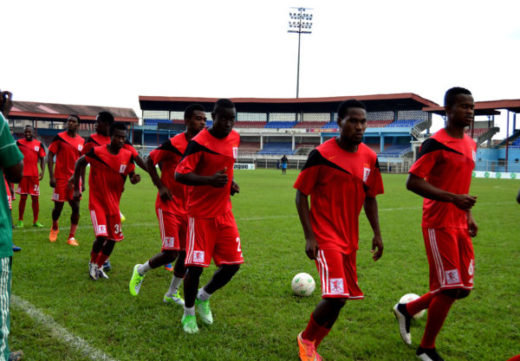 Abia Warriors Football Club of Umuahia began their 2017/2018 Nigeria Professional Football League (NPFL) campaign on Sunday on a promising note by beating visiting MFM FC of Lagos 2-0.
The club won a penalty kick in the second minute but the opportunity was fluffed by Effiong Ndifereke.
Ndifereke however redeemed himself in the 51st minute when he picked up a rebound from the far post, after a shot by Sampson Obi, to register the home team's first goal.
He made it 2-0 in the 67th minute with another goal.
In a post-match interview, the MFM Assistant Coach, Suleiman Ali, said they lost "because the players did not perform according to instructions''.
Ali added that Abia Warriors won because they "only succeeded in taking all their chances''.
Also speaking, Abia Warriors' new Technical Adviser, Emmanuel Deutsch, hailed his players for the victory, saying "they showed character''.
The Cameroonian coach, who took over the team last week, promised that the team would progressively move on in the league, given the quality and commitment of the players.
"The players are committed and are disciplined. So, I am confident that we will sustain the tempo as we progress in the league," Deutsch said.
Speaking on the league's fixtures, the two coaches expressed reservation, saying they did not give room for adequate preparations by clubs with the weekend and midweek matches.
Meanwhile, reports indicate that Abia Warriors' management has suspended the club's Brazilian Technical Adviser, Everton Rafael, for alleged misconduct.
Rafael was alleged to have traveled outside the country and failed to return on schedule to begin preparation for the resumption of the league.
He was also alleged to have failed to communicate with his employers about his absence.