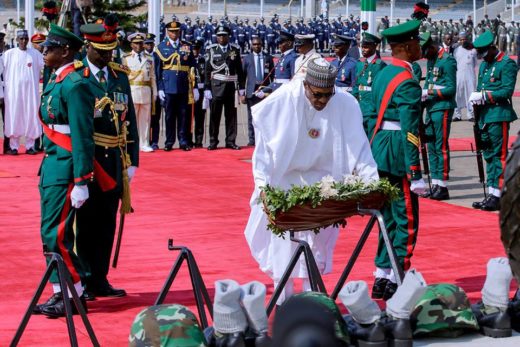 Gov. Willie Obiano of Anambra on Monday urged Nigerians to remember the families of the nation's fallen heroes and pray for the souls of the departed.
Obiano made the call during the Wreath Laying and Parade to mark the 2018 Armed Forces and Remembrance Day at Dr Alex Ekwueme Square, Awka.
The event witnessed parade by men and officers of Nigeria Army, Navy and members of the Nigerian Legion.
READ: Armed forces day: Fallen heroes celebrated in Enugu
Obiano said that the military had done much to keep the nation one, adding "but for the internal and external wars these fallen heroes have fought, we would not have been enjoying the peace we have now.''
Retired Major Nwankwo Ifeanyichukwu, Chairman of the Anambra chapter of Nigerian Legion, called on Nigerians to do more in the area of welfare of members of the legion.
According to him, it is worrisome that in spite the contributions of the retired and deceased military men, their families are still passing through harrowing economic hardships due to poor attention by the society.
Nwankwo appealed to organisations who wanted security services to engage members of the legion, adding that the retirees had wealth of experience to offer.