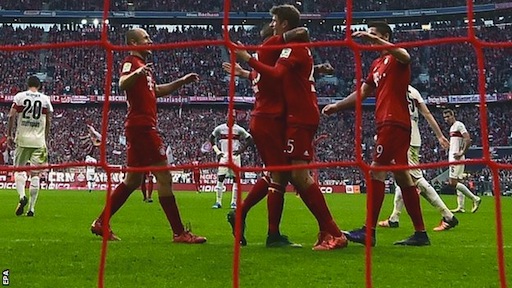 The German Bundesliga boasted the highest average attendances in Europe last season, once again edging the English Premier League, a report released on Monday said.
The average attendance at a Bundesliga match in 2016/17 was 40,693, compared to 35,838 for England, the umbrella organisation for European domestic leagues (EPFL) said.
Spain's La Liga was next with 27,609, followed by Italy's Serie A with 22,177 and France's Ligue 1 with 21,202.
Average attendances in Russia, which will host this year's World Cup, were a modest 11,415, just below Portugal's 11,838.
Figures in some Eastern European countries made grim reading with an average attendance of 4,665 in Ukraine, 2,783 in Romania and 2,233 in Serbia.
Although the Bundesliga had the best figures, attendances have dropped since 2011/12 when the average was 44,293.
During the same period, the league has faced criticism that it has become too predictable with Bayern Munich winning five successive titles.
England boasted the fullest stadiums with an average occupancy of 96.5 percent last season compared to the Bundesliga's 64.7 percent.