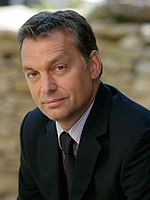 Hungary's rightist Government says it plans to put forward a law against foreign-funded organizations assisting migrants, Interior Minister Sandor Pinter said after a cabinet meeting on Wednesday.
"The planned legislation is to include taxing migrant aid organisations that receive funds from outside Hungary at a rate of 25 per cent,'' Pinter said.
He said that he organisations in question would, under the law, also have to register their activities with a court and their foreign workers could be expelled.
"It is a part of a planned package, the so-called "Stop Soros plan," aimed at regulating the work of organizations helping migrants who entered Hungary illegally,'' Pinter said.
The name of the plan refers to the Hungarian-born billionaire philanthropist George Soros, whom the fiercely anti-immigration Prime Minister Viktor Orban blames, without offering direct evidence, for a refugee wave which swept the Balkans in 2015 to 2016.