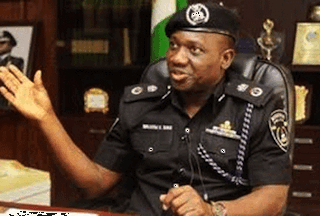 The Taraba Police Command says it has arrested nine persons in connection with the burning of its Divisional Headquarters in Zing, near Jalingo, on Monday.
The Police station was burnt down by youths when policemen rejected their (youths) request to release to them, murder suspects arrested at Monkin village.
Mr David Akinremi, the Commissioner of Police in Taraba, who briefed the media on Tuesday in Jalingo, explained that policemen attached to Zing Division responded to a distress call from Monkin village where an unknown gunmen allegedly killed one person.
"The team, on reaching there, arrested three persons in connection with the killing, but youths in the area followed them and demanded the release of the suspects for jungle justice.
"When the Police turned down their demand and took the suspects to the Zing Divisional Headquarters, the youth trailed them, burnt down the station and vandalised operational vehicles," he said.
Akinremi warned miscreants against attacking police stations, and vowed to sanction those involved in that.
The Police chief dismissed media reports claiming that an aircraft, loaded with arms, landed in Taraba on Monday.
"I want to state that the report is totally false, misleading, unfounded and a deliberate attempt to cause panic in the minds of the people of the state.
"As soon as the rumour filtered in, the command dispatched teams of police operatives to Jibu, where the said aircraft was alleged to have landed, only to discover that there was no iota of truth in the claim.
"I later visited the community but found nothing; clearly, it was a mere rumour," he said.
Akinremi appealed to members of the public to avoid manufacturing and spreading rumours that could create fear in the minds of Taraba residents.