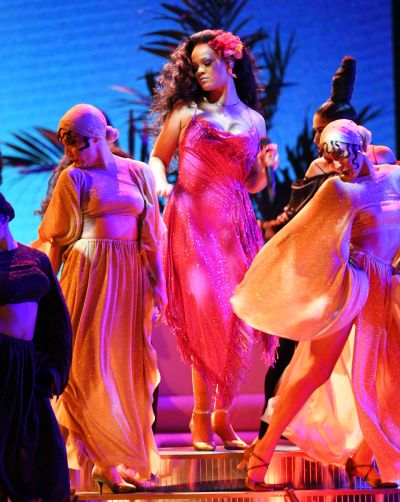 American singer, Rihanna, performed an African dance routine at the Grammy Awards.
Rihana, in a sparkly fuchsia gown, complete with a fringed hemline and a hibiscus draped behind her ear on Sunday, performed the South African `gwara gwara' dance in a song she featured with DJ Khaled.
She incorporated a popular South African dance in her performance of a song titled,'wild thoughts'.
Several international news media had mistaken the dance for an almost similar popular American dance called 'the stanky legs'.
However, some Africans on twitter have come out to correct the error by spelling out the name of the dance.
Popular British-Nigerian actress and singer, Cynthia Erivo took to her twitter handle @CynthiaEriVo to join in the correction, saying:
"This is not the Skanky leg; this is the #GwaraGwara it originates in South Africa."
Also, the dance group AVO Boyz took to their instagram handle @official_avoboyz to corroborate the correction.
They posted a photo of Rihanna doing the dance and captioned it: "Hit the GWARA GWARA @badgirlriri, @ghana_boii, @coco_duduyemii, @djkhaled, @brysontiller."
The Barbados singer was taught the dance routine by the dance group Africa's Very Own (AVO) Boyz, who also joined her on stage for the performance.
A key member of the dance group, Stephen Ojo thanked the pop star for learning the dance on his Instagram page @papi_ojo.
He shared a picture of the ceremony and wrote: "God is amazing @badgirlriri, @djkhaled, @brysontiller.
"Riri, thank you for giving Afrobeats/African dance a chance and letting us teach you. God bless you. You, Bryson and Khaled are all some humble people. God is good."
Video excerpts from the dance routine on the awards show surfaced online and have since gone viral.
Rihanna won her ninth Grammy Award for her collaboration with Kendrick Lamar on the song 'Loyalty'.