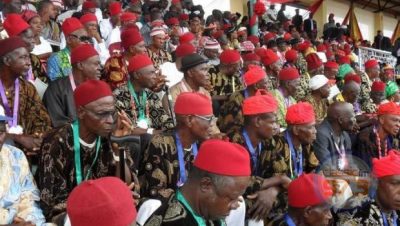 Che' Oyinatumba, Secretary, Ohaneze Youth Forum, on Wednesday called for a cultural re-birth that would enable youths to cherish Nigerian culture above Western way of life.
In an interview with newsmen in Abuja, Oyinatumba urged youths to shun any western culture that would rob them of their African identity.
"We must go back to our culture, re-orienting our minds and the youth to know that black is beautiful.
"Let them know that all those inherent culture like our masquerades and festivals can be promoted for the benefit of the present and future generations.
"What we need to do as government and people of this great country is to go back to our cultural values and promote them," he said.
READ: Freedom of Information Act: Nigerian Govt to provide guide for citizens
On tourism, Oyinatumba urged government to end insurgency and herdsmen/farmers clashes in some parts of the country in view of their negative effects on the sector.
" There is insurgency going on in parts of Egypt but people still visit the pyramids; there is insurgency going on in Sudan and people still go to visit the tombs.
"It is now a challenge for the Nigerian government to realise the mega box of revenue that comes from tourism and work on the issue of insecurity and insurgency.
Oyinatumba urged stakeholders to promote tourists sites that were not affected by insurgency by creating local and international awareness on them.
This, he said, would create employment and also boost the country's revenue generation in the hospitality sector.