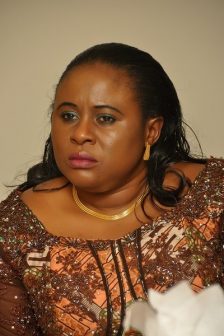 Mrs. Regina Lalong, the wife of the Plateau governor, has called on female journalists to promote and protect women's rights and propagate issues that would enhance their welfare.
Lalong made the call on Thursday in Jos, shortly after her investiture as the Patron of the Nigeria Association of Women Journalists (NAWOJ).
She urged women journalists to emphasise the gains of educating the female child and ensuring equal opportunity for her so that girls could explore their talents and potential toward a better society.
"As women journalists, you should be the mouth piece of the womenfolk.
"The Nigerian women suffers all manners of injustices and deprivation right from childhood. The situation has persisted because of ignorance, especially in the rural areas.
"Many societies have certain cultural stereotypes that are detrimental to the female gender. NAWOJ must expose such stereotypes and ensure that they are discarded," she said.
Lalong advised women journalists to mentor younger women, stressing that such mentoring had become even more crucial in view of the steady decline of societal values.
She also advised them to shun unethical reportage, urging them to stick to the ethics of the profession so as to contribute positively to societal development and growth.
Mrs. Ifenyinwa Omowole, NAWOJ National President, had earlier performed the investiture on the governor's wife, and urged her to support the activities of the body.
Omowale thanked the governor's wife for her steady interest in the activities of the association, and promised that NAWOJ would support programmes she had initiated toward a better lifefor rural women.

Load more