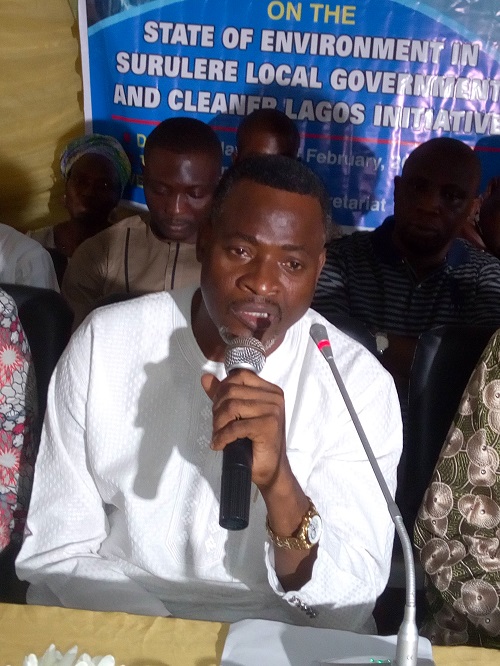 The Chairman, Surulere Local Government, Mr Tajudeen Ajide, on Friday warned market women in Idi-Araba area of the council to keep their environment clean or face sanctions.
Ajide gave the warning at a stakeholders forum on the state of the environment in Surulere and the Cleaner Lagos Initiative (CLI).
The chairman, who addressed the stakeholders in Yoruba language, said he had been to Idi Araba market at least three times and always met it dirty.
He said the local government was trying its best, but the market women in Idi-Araba were not helping.
Abide said any offender caught will henceforth be punished, as he would not listen to pleas from anybody.
He said that was why he was taking time to address everyone at the sensitisation programme.
Ajide commend the traditional rulers in Surulere for their efforts in sensitising the people to keep the environment clean.
He implored the people to appreciate the good work Gov. Akinwunmi Ambode is doing, and support him to run for a second term.
The Secretary to the local government, Prince Muiz Dosunmu, said the state of the environment has become a big issue to the government.
"It is better for us to curb it now before it gets out of hand.
"The Lagos state government has started its plans to keep Lagos clean.
"The local government is only giving its support," he said.
Mr Abraham Amiohu, an official of Vision Scope, the company handling the CLI for the government, said the firm hoped to employ 300 sweepers in Surulere Local Government area.
He told people in the local government area to drop suggestions on how they can serve the community better.
Amiohu brought some waste bags to share to people present at the forum, particularly the market women.
"We have started sharing these waste bags in some streets of Surulere. Our plan is to give to every household.
"We're giving out these bags to let people know it is important to package their wastes, so as to make our work easier," he said.
Some market women urged the company to make the waste bags available constantly.
Stakeholders at the meeting include traditional leaders, community leaders, politicians and traders, among others.

Load more