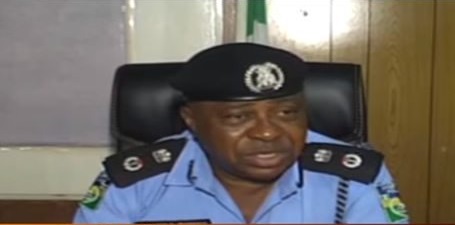 Mr Damian Chukwu, the Police Commissioner in Borno, says the 10 women rescued from Boko Haram were neither police women nor wives of police personnel.
Chukwu made the clarification while addressing newsmen during the monthly police officers meeting on Monday in Maiduguri.
He described reports indicating that 10 police women were among the 13 persons released by Boko Haram insurgents as "misleading".
"That information is false, I have to react to it. It will be recalled that on 20th June, 2017, a burial party of one our women sergeants attached to the SIB who died in the course of duty was being taken home to Lassa in Askira-Uba Local Government Area for burial.
"And due to security encumbrance on Maiduguri-Damboa Highway, they were under military and police escort, on getting to a town about 30 kilometres from Maiduguri; they were ambushed by the Boko Haram and some women who took advantage of the empty space in the truck.
"So the women were trapped; we do not know their number but a few of them who were able to jump down, scampered for safety, escaped. Those of them who could not make it were taken away with the truck by the Boko Haram.
"Among them, since that time, we recorded only one woman inspector attached to the CIB, who happened to be a very close friend of the deceased sergeant, the rest of them are not police women and they are not wives of police personnel."
He further disclosed that one policeman was killed while the driver of the truck and a brother of the deceased were shot and sustained injuries in the attack, a situation which de-mobilised the vehicle.
It will be recalled that the Federal Government had on Saturday announced release of 13 persons by the Boko Haram insurgents, sequel to negotiations brokered by the International Committee of Red Cross (ICRC).
The freed persons are three male workers of University of Maiduguri and 10 women, abducted on separate raids coordinated by the insurgents between June and July, 2017, in Borno State.

Load more