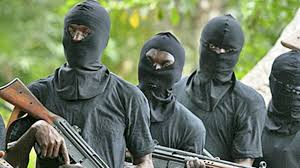 Abductors of Mrs Fumilayo Akpama, wife of the accountant of the Living Faith Church, Rantya have apologised to the family for killing their dog in the process.
Their apology to the family was made after they collected a ransom of N1million from the husband, Simon Akpama, to free the woman.
In an interview on Monday, Akpama said that the kidnappers collected N1 million ransom directly from him before releasing his wife.
He said, "they released my wife directly to me at about 6 pm on Thursday.
"There was no police involvement in the transaction; the police only came to take statements after and discuss the issue of the killed dog which they suggested to me should be slaughtered for meat.
"The kidnapper's apologised to me over my dog as I handed over the ransom money. They killed the dog before taking me, my wife and our three-year-old child".
They also told me that they monitored my house for three months before the abduction at about 8 p.m. on 7 February.
The accountant said they were abducted at the gate into their premises as they returned from the mid-week service of the church which usually lasted until after 7 p.m.
He said they were about opening the gate into their compound located around the Federal Low-Cost Housing Estate in Rantya when the kidnappers seized them.
Akpams said that the kidnappers changed their mind about taking him and the child with them. They dropped him off, along with the child, to source the ransom money.
He said that the abductors called him on phone to collect the ransom, but he told them that he had nothing to give.
The abduction was announced to members of the church during the Covenant Hour Prayer on Thursday 8 February, during prayer session led by Snr. Pst. Joseph Yadung.
Akpams lamented that the security personnel were far from the people they were meant to protect and called on the government to prioritise the security of the citizenry.
"There is need for the government to beef up security around residential areas and for the people to take a keener interest in their own security.
"The gunmen that abducted my wife are Fulani, who infiltrated the community. They are not locals.
The Plateau State Police Command had on Thursday confirmed the abduction of Fumilayo and the release of the husband on condition that he should source for a ransom of N10 million.
The Police Public Relations Officer of the command, Mr Terna Tyopev, confirmed the incident was reported at the Rantya Police Division in Jos.
He also said the police were investigating the incident.

Load more