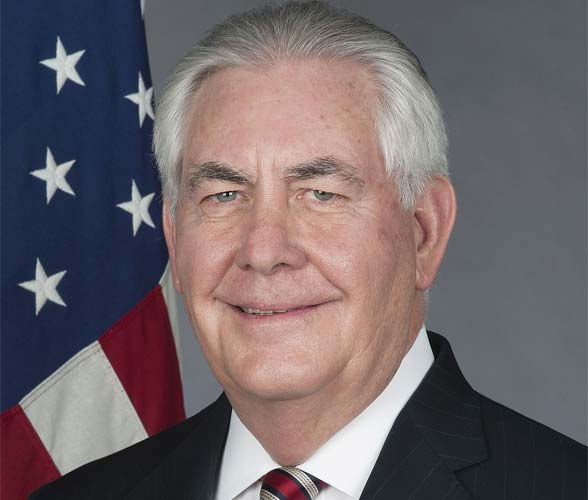 U.S. Secretary of State, Rex Tillerson, said on Monday the U.S. supports Egypt's fight against Islamic State but reiterated that Washington advocates free and fair elections in the country.
Tillerson stated this while addressing a joint news conference with his Egyptian counterpart, President Abdel-Fattah al-Sisi.
Tillerson also said that Washington remained committed to achieving a lasting peace between Israel and the Palestinians, in spite President Donald Trump's decision to recognise Jerusalem as Israel's capital.
Tillerson arrived in Egypt at the start of a regional tour amid heightened tensions between Israel and Syria after an Israeli F-16 aircraft was shot down.
It also follows a major security operation by the Egyptian military to crush Islamist militants, who have killed hundreds of people since 2013.
"We agreed we would continue our close cooperation on counter-terrorism measures," Tillerson said.
"The Egyptian people should be confident that the U.S. commitment to continue to support Egypt in fight against terrorism and bringing security to Egyptian people is steadfast."
The Egyptian military campaign comes ahead of presidential election in March, in which President al-Sisi is seeking a second term in office.
He said that U.S. would supports a credible and transparent election in Egypt and Libya.
"We have always advocated for free and fair elections, transparent elections not just in Egypt but in any country," Tillerson said.
"The U.S. is always going to advocate for electoral process that respects rights of citizens," he told journalists, adding that the U.S was also keen to continue supporting Egypt in its economic recovery.
Tillerson also said in Cairo that it was up to North Korea to decide when it was ready to engage in sincere talks with the U.S.
U.S. Vice President Mike Pence said in a newspaper interview that Washington and Seoul had agreed on terms for further diplomatic engagement with North Korea, possibly leading to direct talks without pre-conditions.
Tillerson told a news conference it was too early to judge whether this was the start of a diplomatic process.

Load more