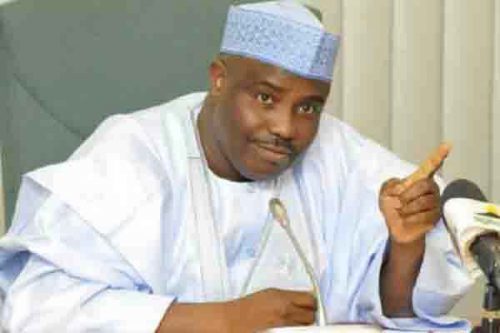 Gov. Aminu Tambuwal of Sokoto State on Wednesday signed the 2018 appropriation bill of N220.5 billion into law.
Tambuwal, while signing the bill promised to implement the N220.5 billion document for the optimal benefit of the citizenry.
He expressed hope of meeting peoples' expectation in the implementation of the budget despite the state government challenges in meeting its revenue targets in the last two years.
"We received slightly above N72 billion last year, this is why we did not perform optimally.
"We hope to improve this year as most of our projects in the state are ongoing," Tambuwal said.
"We are aware that the legislature has not tinkered with the overall budget size even though they have reallocated some resources to different sub heads, we are happy with that.
"We believe it is within the purview of your rights as legislators to do what you have done and we will implement them as passed,'' he said.
Tambuwal said that the cordial relationship between the two arms had drastically helped in strengthening democracy in the state.
"As such, people should know that our relationship is not a master-servant relationship, but one based on mutual trust and respect for the two arms of government,'' he governor said.
In a remark, the Speaker of the State House of Assembly, Alhaji Salihu Maidaji, said the legislature was satisfied with the performance of the state budget in 2017.
He urged the state government to strengthen the internal revenue board by providing logistics for enhanced performance.
Maidaji said the Assembly will work with the executive to repeal obsolete revenue laws hampering effective revenue mobilisation in the state.
The speaker commended the Interim Management Committee, Sokoto State Board of Internal Revenue, over the huge increase in the state Internally Generated Revenue that rose by 200 per cent.
Of the N220.5 billion, N152.8 billion or 69.9 percent was allocated to capital expenditure while N67.6 billion or over 30 percent, was set aside for recurrent expenditure.
Education sector again got the highest allocation with 26.1 per cent of the total budget sum, followed by Health sector which got N20.9 billion and Agriculture, N16.5 billion.
N14.3 billion was allocated to Works and Transport while Lands, Housing and Survey got N11.6 billion.

Load more