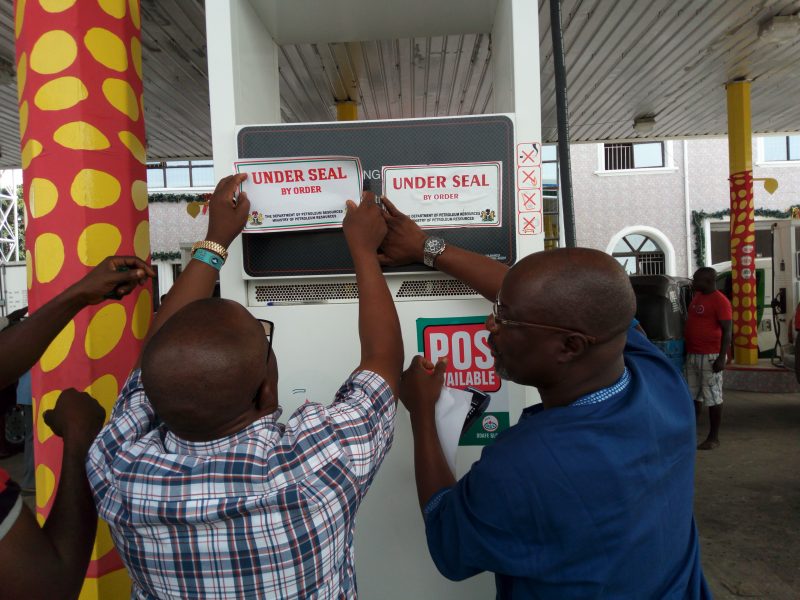 The Warri Zonal Office of the Department of Petroleum Resources (DPR) has sanctioned six erring petrol stations in Warri and its environs.
The Warri Zonal Operations Controller, Mr Antai Asuquo, disclosed this to newsmen on Tuesday in Warri shortly after a surveillance exercise.
Asuquo, who led the surveillance team, said the petrol stations were sealed for under-dispensing and over-pricing.
He said the team, comprising two groups, visited 17 petrol stations in an exercise that lasted over six hours.
Though the controller expressed joy at the level compliance to the government-approved pump price of N145 per litre, he however said the regulatory agency would keep monitoring the marketers until there was full compliance.
The DPR officials, accompanied by security operatives, covered Warri, Ughelli and Udu Local Government Areas.
Some filling stations that dispensed slightly above the approved pump price were compelled to sell at N145 per litre to consumers.
"We visited 17 stations and six were sealed for various offences bordering on over-pricing and under-dispensing and appropriate sanctions have been meted to them.
"We will continue this process; as we observed, the level of compliance is gradually increasing; there are products and we expect that in the next two weeks, it would have normalised completely.
"However, we want to solicit the support of the security agencies to ensure that appropriate law is enforced, particularly violation of the sealing of filling stations by DPR, which contravenes the law of the land.
"We are only a regulatory agency; we do not enforce the law."
Asuquo said that DPR would keep monitoring products lifted from private depots and ensure they reached their approved destinations with the exact quantities discharged.
The controller appealed to the public to assist the regulatory agency with useful information about sharp practices by marketers, in order to the address the situation.
"The public should call the DPR whenever they notice infractions with regards to over-pricing, under-dispensing among other anomalies.
"We will take appropriate actions immediately," he said.