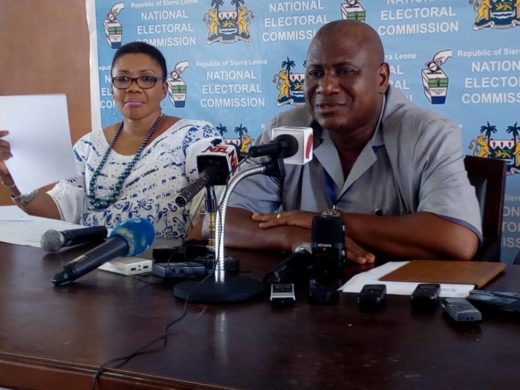 The Sierra Leone National Electoral Commission (NEC) said that the commission was working to ensure that elections in the country meet international best practices.
The NEC Chief Electoral Officer, Mohamed Conteh in an interview with the News Agency of Nigeria (NAN) on Tuesday in Freetown, described the Wednesday elections as significant to the country, being the first to be conducted after the civil war in the country without UN supervision.
The Chief Electoral Officer promised that the commission would do all it can to make the elections successful.
"We want to follow international best practices, we also want to follow our legal framework.
"We want to make sure that when we conduct election, even those who lost will accept the results as long as they are very transparent.
"That is why we are meeting with them. We take their concerns. We ensure transparency, freeness and fairness. These are qualities of credible elections.''
On the possibility of rerun in the presidential elections, Conteh said that it was possible for a political party to score 55 per cent of valid votes as stipulated by the electoral laws.
He added that the commission, in line with best practices, made provisions for rerun in case it happens.
He explained that though the country has 17 registered political parties the People's Democratic Party (PDP) does not have a candidate for presidential. It has candidates for other polls, he said.
On independent candidacy, Conteh said that the Sierra Leone law does not make provision for it in presidential elections. "But for other elections, there is provision for independent candidacy.''
Meanwhile, the Sierra Leone Peoples Party (SLPP) Presidential Candidate Rtd. Brig. Julius Maada Bio has called on all stakeholders in the election to embrace peace for the development of the country.
" I have vested interest in peace and I know it is a pre-requisite for development. We should be pre-occupied as a nation with development.
"Of course by now the nexus between development and security is well established. I know we cannot move this nation forward without having a peaceful environment.
"We are asking on all other stakeholders including the president, the government the police, the military and NEC to play their part to make sure that we have a peaceful election.''
Bio also stressed the need for peaceful transition of power in the country saying he had set the example 20 years ago when he handed over power to a civilian as a Military Head of State.
"I did not only relinquish power, I also made sure that I left the country so that it will enjoy peace.
" So, for me that is a challenge for the president and the NEC to make sure that it deliver clean elections, so that the results will be credible in the eyes of everybody.''