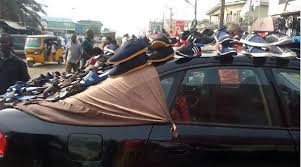 Some residents in the Federal Capital Territory (FCT) have turned their vehicles into mobile shops.
The trend has become widespread in the Federal Secretariat car park, Area one secretariat, gardens and recreational parks.
When newsmen visited the FCT Federal Secretariat, which housed some Ministries, Departments and Parastatal Agencies (MDAs), on Monday, various items including clothings, shoes, jewellery, electronics, and phones were on display.
Others include cooking ingredients such as spices; crayfish, dry fish, as well as drinks, snacks and bread.
Those who spoke expressed divergent views saying that the cost of renting a shop has become a nightmare in the FCT, while there was also an unhindered access to reaching prospective buyers.
Malam Isiaka Maiyadi, a textile dealer and a shop owner at the Garki market, said he still preferred mobile shop due to easier access to customers.
"I sell more goods here than my shop because not everyone likes the stress of going to the market to buy materials.
"Workers can easily come out from their offices to buy materials and I even link them up with tailors to sew for them,'' he said.
Similarly, Inuwa Aminu, a shoe merchant, said lack of patronage in his rented shop, spurred him into converting his car boot into an automobile shop.
"Even though I am here often, I am not restricted or confined to a particular place as I move around to any gathering; Before, I used to stay in the shop without people coming to buy from me.
"On Fridays, I usually go to Central Mosque, while some days I go to any gathering with my goods in my car trunk to sell, Aminu said.
Similarly, Mrs Joy Nwosu, a civil servant said she started selling food items in her car trunk because the cost of renting a shop in Abuja has become a nightmare.
"I want a business that will generate more money for me in order to add up to my salary, not the one that all my money will go into renting of a shop.
"But I don't have enough capital to place order for a large quantity of goods and rent a shop, I decided to start selling in small quantity to my colleagues.
"So I usually move these food items like crayfish, dry fish, palm oil, and melon around in my car.
"Sometimes, I will park at the secretariat and my daughter will be selling the goods.''
Also, Mrs Bose Adeyemi, who deals in hair products and other accessories, said rather than rent a shop: she preferred to use the money to buy stuff and sell from her car boot.
Adeyemi, however, said that there were challenges including arrests by law enforcement agencies, theft by some customers and selling below what shop owners would have demanded.
"It is still far better because I don't have to pay for a shop, salesperson or utility bills.
According to her, selling from the vehicle was more convenient for her as it affords her the opportunity to sell her products anytime and anywhere there is a gathering.
"Most times, I attend occasions uninvited and when I see ladies that look easily approachable, I will walk up to them and market my products.
"Moreover, I always make contacts at every occasion so that when the need arises, I can respond.''