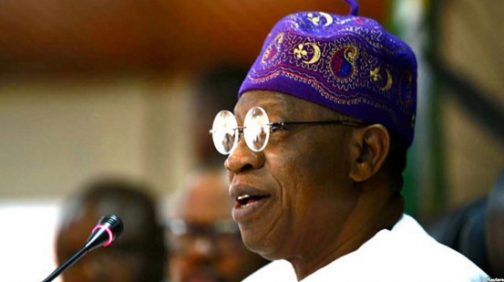 The Minister of Information and Culture, Alhaji Lai Mohammed, says the December 2018 date for the completion of the Lagos-Ibadan speed rail project "is non-negotiable''.
The minister said this on Tuesday at the project site in Papalanto, near Abeokuta in Ogun state.
Mohammed and the Minister of Transport, Rotimi Amaechi jointly inspected the 156 kilometres stretch standard gauge rail project.
The ministers also held a closed door meeting with the contractor, China Civil Engineering Construction Company (CCECC), the consultants and other stakeholders.
"On today's meeting, what we have achieved is that the December date for the Lagos-Ibadan standard gauge is non- negotiable.
"I am happy to say that both the contractors and consultants have promised their commitments to meet the deadline.
"The challenges raised are surmountable and these are what we reviewed in the meeting,'' he said.
The minister noted that the rail construction is one of the flagship projects of the administration, adding that the government would leave no stone unturned to ensure its completion.
Mohammed said that they were undergoing inspection of the project to showcase to Nigerians the amount of works the administration had done in the last three years.
"The idea is to let Nigerians know that this administration has done a lot on infrastructure development.
"In particular, people complain that they do not know what we have done. Whereas a lot have been done which we need to showcase to Nigerians,'' he said.
In his remarks, Amaechi said the project which is a section of the Lagos – Kano standard gauge project had generated no fewer than 7,000 jobs for Nigerians.
He reassured that with the pace of 1.2 kilometre of track laying per day, the deadline for the completion of the project would be achieved.
The minister disclosed that they had agreed to relocate the 81 Battalion Army ordinance depot in Yaba which formed one of the encumbrances to the project.
He said the project which extended to Apapa Port would help to decongest the traffic in the axis for operations profitability.
Bbesides Apapa harbor, the rail projects included nine stations along the main line including, Lagos, Agege, Agbado and Kajola.
Other stations are, Papalanto, Abeokuta, Olodo Omi Adio and Omi Ibadan.