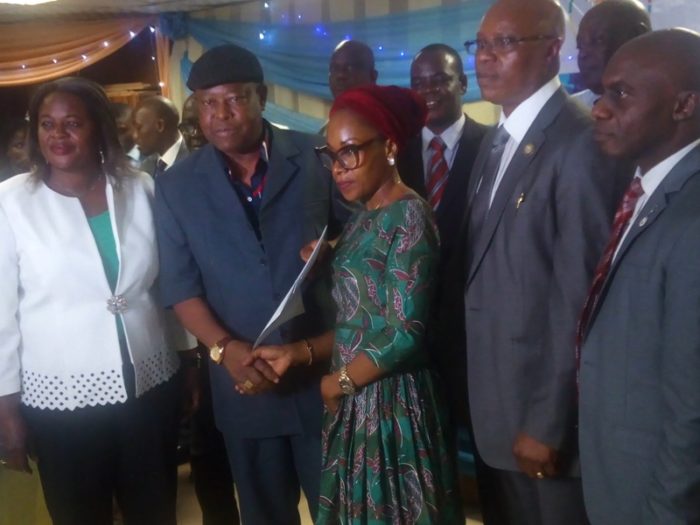 By Kazeem Ugbodaga
The Lagos State Government on Wednesday presented N280 million to the families of 110 deceased staff of Local Governments and the State Universal Basic Education Board, SUBEB.
Speaking at the event held at the T-Block, Ministry of Local Government and Community Affairs, Secretariat, in Alausa, Ikeja, Lagos, Southwest Nigeria on Wednesday, Commissioner for Local Government and Community Affairs, Muslim Folami said the presentation was the first phase of this year, as another would be done before the year ended.
He said the 110 deceased staff comprised 53 from Local Governments and 57 from SUBEB.
Muslim, who was represented by the Permanent Secretary in the Ministry, Fola Padonu said last year, LASACO Assurance PLC paid insurance benefits to 145 beneficiaries of the deceased staff from SUBEB and Local Government councils.
He commended Governor Akinwunmi Ambode for being mindful of the plight of the dependants of the deceased staff and his commitment to the cause of prompt payment of premium which had enabled the presentation possible with the objective of ameliorating the suffering of the dependants of the deceased staff.
Deputy Managing Director, LASACO Assurance PLC, Rasak Abiodun said the state government had been so committed in paying premiums as at when due, urging other states to emulate the example of Lagos.
According to him, in the last three years, the company had paid insurance package to the families of deceased staff to the tune of N1.5 billion.
He disclosed that N280 million would be paid to the 110 families of deceased staff in the first phase, saying that the second phase would take place in November and that the company would likely pay up to N300 million to beneficiaries.
Abiodun, who represented the Managing Director, LASACO, explained that the highest amount to be paid out to a deceased staff would be about N8 million while the least would be about N640,000, saying that the amount to be paid out depended on the number of years such a deceased staff put in the service of Lagos State and the grade level.
Chairman, Local Government Service Commission, Babatunde Rotinwa appealed to families of the deceased to expend the money collected judiciously, especially in training the children of the deceased in school so that their labour would not have been in vain.
A daughter of one of the deceased, Salami Adeola commended Ambode for the gesture, saying that the money paid to the family had given them hope.
Husband of a deceased teacher, Sunday Chukwumezie said his wife died in 2017, having put 20 years in the service of Lagos State Government, but commended the government for the money.