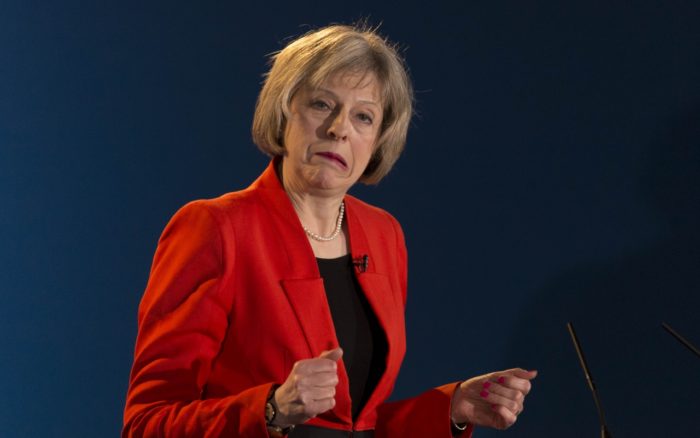 British Prime Minister, Theresa May, appealed for unity in her ruling Conservative party on Friday, amid pressure from both eurosceptics and pro-EU rebels ahead of next week's crucial vote on her Brexit legislation.
May told reporters early Friday en route to the G7 summit in Canada.
"I hope what everybody will see when they come to vote next week is the importance of ensuring that we get the EU Withdrawal Bill onto the statute book, because it's that EU Withdrawal Bill that [will] ensure […] a smooth transition when we leave the European Union," May said.
May faces potential rebellion from some pro-EU Conservatives when the bill returns to the Commons, Westminster's main elected house, after the unelected upper house, the Lords, passed 15 amendments.
She plans to speak to the 316 Conservative lawmakers in the 650-seat Commons late Monday before the parliamentary debate opens on Tuesday, the party announced on Friday.
May wrote to the Conservative lawmakers on Thursday after her cabinet agreed to a compromise proposal for a temporary "backstop'' arrangement to maintain free movement of goods and people across the Irish border.
She said the backstop – which she insists would only be used as a last resort if a customs deal cannot be agreed before Britain leaves the EU in March – would be "unpalatable but, at worst, temporary.''
May say a backstop arrangement would only run until the end of 2021 "at the very latest."
A parliamentary report on Friday accused both May's government and the EU of approaching the Brexit negotiations "with too great a focus on 'red lines,' increasing the risk that they will be left without an agreement on the future relationship."
The report by the Lords' cross-party EU Committee urged both sides to "focus on identifying benefits, and areas of mutual interest, and to acknowledge that compromises will be needed."
It said it was vital for the government to produce "detailed, workable proposals in time to influence the drafting of the October 'political declaration' which will set out the framework for future UK-EU relations."
"Given the closeness of the [Brexit] referendum result, the government must articulate an inclusive vision for future UK-EU relations, commanding broad support, in order to achieve an acceptable and durable outcome," the report said.