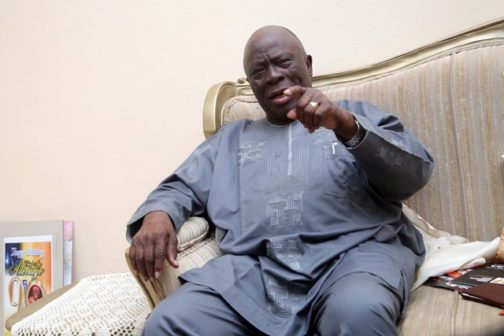 Chief Ayo Adebanjo recently marked his 90th birthday. He fielded questions from TheNEWS/PMNEWS team, comprising ADEMOLA ADEGBAMIGBE, LANRE BABALOLA AND YOMI OSOBA on his life and the state of the nation. Ayodele Efunla snapped the photos.
Congratulations on your recent 90th birthday sir, how do you feel about the reality of that old age? What is the secret behind your long life?
I don't know why God bestowed on me the grace. It is not that I am that righteous, I appreciate that and I know that it is only the grace of God that I am still here up till today. You exercise, you eat well and without the grace of God you are zero and that is the cause of the celebration, to appreciate God for his mercies.
What fired your interest in politics?
I don't know because when I look back at my career, I have always taken part in politics out of conviction. When I was in the school, I was an avid reader of West African Pilot published by Nnamdi Azikiwe. There were many columnists, including Zik, who fired our zeal. I don't know if any of you have heard about the West African Pilot?
Yes we have. Copies are at the National Library
In the colonial days, those were the columns you looked out for. I committed them to memory. Zik and Herbert Macaulay really awakened the political fervor of Nigerians towards anti colonialism. However, I have never contested for any position.
Was it by choice, if so, what informed it?
Well, you see, I was a pioneer Organising Secretary of Action Group. When Chief Awolowo propounded the theory of good governance, that we could be better than the white colonialists and that if we gained independence, this is what we will do, and this is what will be required of us. By the time I worked so closely with Chief Awolowo, I became so attached to his ways. As organizing secretary in our own days, we would go to each village to educate people on what our party stood for, what we intend to do for them. This is what you get, free education, free medical services, your roads between you and others will be tarred and we say if we don't do it, don't vote for us when we get back to you, so there was a bargain.
At 90, you are still active, it is generally believed that as an Ijebu man, you must be an Ogboni. What is your secret?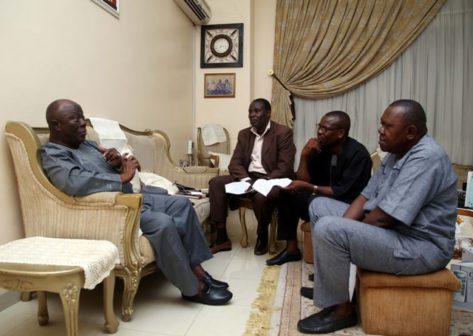 It is the grace of God. Nothing more. My father lived up to 105, so they people always say longevity is what papa left for me. There is nothing to worry you, I have no security here. Go to my village, I don't have any security. Concerned people would say, papa, these people are bad oo, I would say I don't know anybody, I don't have contract with anybody, I have not cheated anybody. What you cannot say in the public don't say it in the private.
I also learnt you love exercises. Would that be part of the secret?
If you do exercise, eat well, sleep well, that is an attempt to live good. Without the grace of God, you cannot live long.
Are you afraid of death?
I scorned death since 1996 when I was 68, when we were arrested after the death of Kudirat Abiola. We were arrested as her killers! They took us to Adeniji Adele Police Station and because I was coming from office, I took my suit, and they were asking us about Abiola. Abiola is not my cup of tea. I was shocked. Was it because of Abiola's wife that you arrested us? I asked. Whether we like it or not Nigerians voted for Abiola. One man has no right to say it is not valid, it did not count.
You supported Buhari in 2007, many critics wondered: was that not a mistake?
No. I will tell you why. There were Atiku, Yar Adua and Buhari. Buhari promised to restructure and we considered him as the cleanest among the three candidates. We had no choice and we said ok, we have chosen the best, on principle. That is why when you hear APC people saying they are going to do restructuring, I say, enough, Buhari is not a man of his words. We supported him the last time because he promised to restructure the country. When Tunde Bakare supported him and Odumakin, it was on the basis of restructuring and he never mentioned it again. Tinubu too said they are going to do restructuring in their manifesto. The rest is history. Nobody can take us for a ride again. If you are talking about restructuring, do it before election. I just want to say that I am a democrat.
We have long realized that the moment you establish this country on purely federal principle as we had before independence. If they do true federalism today, I don't care who is the president of this country. We need a true federalism, not what you call the Nigerian factor. In America, Canada, every other parts of the world, every federating unit grows at its own pace, if not for that we would not have gone far in the western region. We had plenty of money in the western region, and then we introduced free books as a result of additional income, these are all elements of federalism, so if federalism is adhered to, things will be better for us. See Abuja is there, I can count how many times I have been there. How many Americans have you heard has visited Washington? What concerns them is government at their local levels. The most important thing that concerns you is health, agriculture.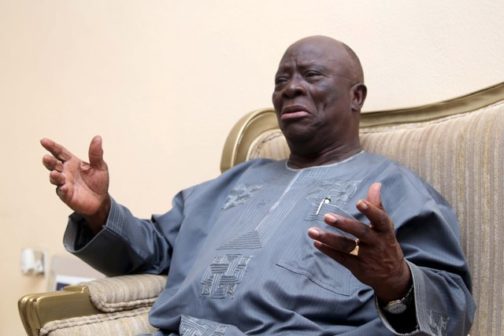 The question of staying together is to be established until it was made to change in 1966.
Go and study the constitution and even the former governor of Niger was asking me about restructuring. It is the function of the federating units that will determine whether you are federal because the function of the state governor has been defined. We have the exclusive list, we have concurrent list. In the First Republic, the regions were autonomous and independent and the federating units were complimentary to the federal government and that was why when Awolowo as the premier, before the military came, we had our own embassy in London.
So apart from restructuring, what other reasons made you not to support Buhari again?
I tell you. He is a dictator. And I said it at that time. I said he is a dictator and he punished somebody through his acts on legislation. He passed a retroactive law to kill those who were accused of drug pushing. Also, he is a religious bigot. Coming from that part of the north, what do you expect. By training as a solider, he came into power in 1983. He does not read newspapers. It was Idiagbon that read. Those were the things I said in 1985 (about Buhari/Idiagbon regime). Many of you were not born then because what I am talking is about 30 years ago. All of these people shouting now are under 50, so you cant appreciate what am talking about now.
Let's take you back a bit, if you have now seen the actual Buhari, but what happened during the June 12 time that Abacha was able to deceive you and other Afenifere leaders? He reneged on his promise to stay for a brief period?
Abacha said "we will do what you want." That's why people like Babatope, Jakande and others joined his government, because the military said they would stay for a brief period. When Abacha reneged, we asked our people there to come out. What I am enjoying today is that whether you like me or not it is the same thing I stand for over the years. Those who are supporting Buhari still ask me, what do you stand for.
Your critics accuse you of being too rigid and not compromising…
The moment you compromised there is no principle.
Some critics reason that in a federating unit like Nigeria with diversities, that there should be reasons for compromise and flexibility….
I can't compromise on some fundamental principles.
How would you react to this story that politicians come here to tap from your experience and run away after?
How did you choose them in the first place? How many of you know your councilors? This is because the governor says, you go there, you go to be in charge of that place. That is the beginning of the whole thing. Whe Raji Fashola was to be the governor, people said we don't know this man, he is not from our place. Did you know Fashola before, you can't remember? Somebody told them and he imposed him on them. Then at a public function, the same Fashola was asking that there should be no imposition. His principal, however, said if there was internal democracy you won't be governor. When Fashola was there, to bring Ambode, people said no, no, we won't agree, we won't agree. When he was doing for Fashola, you were there as cabinet members, now why are you saying no?
Were you ever tempted to change camps?
There was no cause for it because there was a reason I was in Awo's camp.
Read more here: http://thenewsnigeria.com.ng/2018/06/ayo-adebanjo-my-problems-with-obasanjo-bola-ige/http://thenewsnigeria.com.ng/2018/06/ayo-adebanjo-my-problems-with-obasanjo-bola-ige/