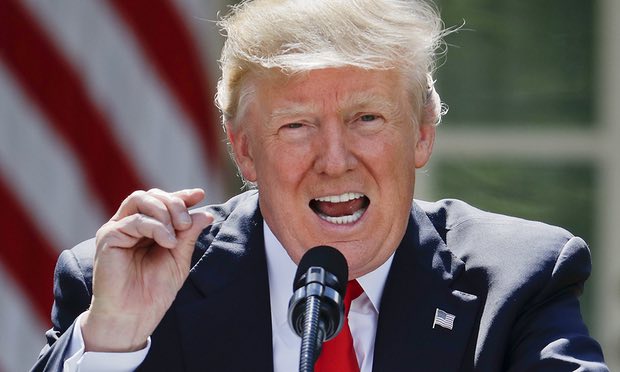 President Donald Trump attacked the U.S.' western allies again early Monday, with a series of rambling tweets from Singapore where he is set to hold a historic summit with North Korean leader Kim Jong Un.
"Fair Trade is now to be called Fool Trade if it is not Reciprocal," he tweeted.
"According to a Canada release, they make almost 100 Billion Dollars in Trade with U.S. (guess they were bragging and got caught!).
"Minimum is 17B. Tax Dairy from us at 270 per cent. Then [Prime Minister] Justin [Trudeau] acts hurt when called out!"
It was not clear which Canadian statement he was referring to.
The U. S. had a goods and services trade surplus with Canada totalling 8.4 billion dollars in 2017, according to the Office of the U.S. Trade Representative.
Trump also attacked Europe, writing, "the U.S. pays close to the entire cost of NATO-protecting many of these same countries that rip us off on Trade .
" The European Union had a 151 Billion dollars Surplus-should pay much more for Military!"
A war of words broke out between the U.S. and its traditional allies on Saturday when Trump attacked G7 host Trudeau on Twitter and withdrew support for a joint G7 communique, after the Canadian leader vowed retaliation for U.S. tariffs on steel and aluminium.
His aides continued the attacks on Sunday, with economic advisor Larry Kudlow accusing Trudeau of stabbing the U.S. "in the back."
Europe and Canada reacted with consternation to Trump's Saturday tweets, with France saying international cooperation "cannot depend on anger or small words" and German Chancellor Angela Merkel calling Trump's decision to retract U.S. support for the G7 communique "sobering and a bit depressing."
In a swift reaction, Merkel said Trump's decision to pull out of the G7's joint communique over Twitter was "sobering and a bit depressing."
Merkel also says in an interview with German broadcaster ARD that the German government would be sticking by the declaration.
She admits that the U.S. president's stance does not make things easier, but she says that she intends to continue talks with him, including at the NATO summit in July in Brussels.