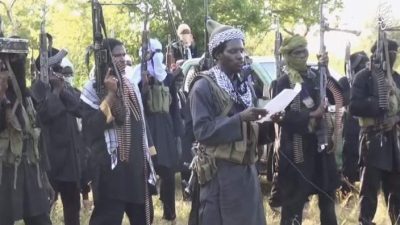 Four persons were killed and six others injured when Boko Haram raided Tunkushe village in Konduga local government area of Borno state on Friday.
A male suicide bomber also detonated an Improvised Explossive Device(IED), among group of residents sleeping in an open place in the area.
Bukar Dalorima, a resident in the area who confirmed the attack, told NAN in an interview that the bomb blast was followed by indiscriminate shooting from the insurgents.
Dalorima said that the many residents were injured and several were killed.
Edet Okon, The Police Public Relations Officer of Borno command, who confirmed the attack, said at about 0100hrs, gunmen suspected to be Boko Haram terrorists attacked Tunkushe village in Konduga.
Four persons were killed in the attack.
Okon said that the Command has deployed more personnel to strengthen security while normalcy had been restored within the area.
Load more