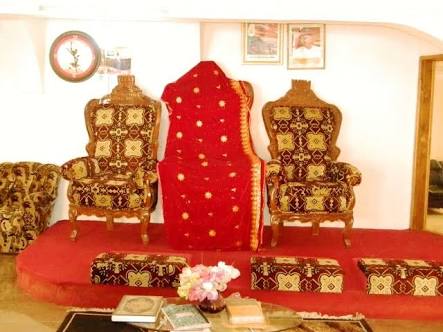 The Omu-Aran community in Irepodun Local Government Area of Kwara, has inaugurated a committee to organise a befitting installation for Olomu-elect, Oba Abdulraheem Adeoti.
The 30-man coronation committee is headed by Col. Theophilus Bamgboye (Rtd) former Military Administrator of Bauchi and Osun States and has Mr Jide Oyinloye as Secretary.
Adeoti, with his entourage, had on Saturday, Sept. 15 stormed the community from Ilorin, to commence the seven-day traditional seclusion prior to his installation scheduled for Sept. 22.
The development followed his recent approval by the state government being the kingmakers' nominee to occupy the vacant traditional stool.
Adeoti emergence followed the demise of the last Olomu, Oba Charles Oladele Ibitoye, who joined his ancestors on November 30, 2017, after brief illness.
Mr Muyiwa Oladipo, Chairman of Irepodun Local Government Council, while inaugurating the committee on Sunday in Omu-Aran, urged the members to live up to expectation.
Oladipo stressed the need for members to put in their best and come up with a coronation befitting the status of Adeoti as a first class monarch.
"This committee has been put in place to give the community an auspicious and memorable coronation to depict maximum love and respect in line with our tradition," the chairman added.
Bamgboye, in his remark, thanked the community leaders for the opportunity given to the committee members in contributing their quota to the upcoming historical event.
Chief Jide Adebayo, Eesa of Omu-Aran and representative of the Olomu-in-council, on his part, expressed the support of the council to the committee in order to achieve the desired objective.
He described the committee members as people of proven quality, competency, integrity and transparency.
Also contributing, Chief Bisi Adeyemi, President, Omu-Aran Development Association (ODA), expressed the association's optimism in the ability of the committee to deliver as planned.
Meanwhile, the Olasankale descendants in Omu-Aran, has commended the state government over the approval given to the family's candidate, Adeoti as the new Olomu of Omu-Aran.
The family, in a statement in Omu-Aran signed by its spokesperson, Alhaji Azeez Olawuyi, described the government's gesture as "unprecedented and heartwarming".
Olasankale descendant is a component of Ijoko/Olasankale ruling house where Adeoti hails from.
The statement particularly commended the role played by Gov. Abdulfatah Ahmed of Kwara, the kingmakers, the Olomu-In-Council, Omu-Aran Development Association (ODA) and other stakeholders in making the approval a reality.
The descendants, who expressed confidence in the ability of the new monarch in piloting the affairs of the community successfully, also prayed that his reign would witness peace, unity, development and tranquility.