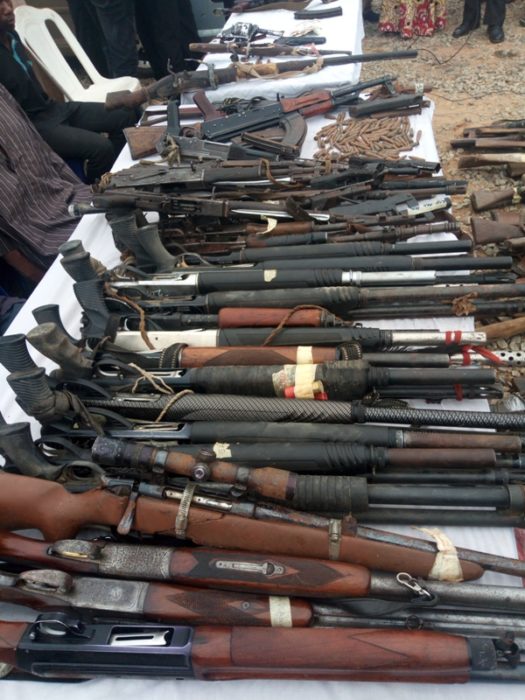 By Kazeem Ugbodaga
The Nigeria Police Force on Thursday said 9,657 prohibited fire arms and 26,994 ammunition have been recovered from illegal possessors of such arms and ammunition across the 36 States of the country.
The recovery was sequel to the Inspector General of Police's, IGP, order in February, 2018 that commissioners of police in all the State Commands of the Federation and the Federal Capital Territory (FCT), Abuja and their Supervisory Assistant Inspectors General of Police of the Twelve Zonal Commands in the Country, and the Force Headquarters Joint Task Enforcement Team to immediately commence simultaneously throughout the country, the mopping-up, recovery of prohibited firearms, ammunition and weapons in the possession of all suspected militias, bandits, armed herdsmen and farmers, vigilante groups, among others in the country.
Force Public Relations Officer, Jimoh Moshood, in a statement said so far, 6,527 fire arms and 14,809 ammunition were recovered in the first batch while 3,130 fire arms and 12,185 ammunition were recovered in the second batch.
He said the categories of the prohibited/illegal firearms and ammunition, specified under Chapter F.28 LFN 2004 Fire Arms Act, were artillery, apparatus for the discharge of any explosives of gas diffusing projectile; rocket weapons, bombs and grenades; machine-guns and machine-pistols; military rifles, namely; those of calibers 7.62mm, 9mm, .300 inches; revolvers and pistols; pump action gun of all categories and any other firearms/lethal weapons fabricated to kill.
"This operation which is still ongoing among other purposes, is aimed at the full enforcement of the Firearms Act, mopping-up and recovery of all prohibited firearms and illegally acquired weapons and will enable the Nigeria Police Force deal decisively with herders/farmers clashes, kidnappings, armed robbery, cattle rustling, militancy and terrorism.
Moshood added that other items recovered were two vessels, seven speed boats, 83 trucks, 25 assorted cars, including Jeeps, 36 buses, 29 motorcycles, five speed boat engines and 38 pumping/drilling machines and generators.
"The commitment of the Nigeria Police Force to guarantee protection of lives and property and recovery of government assets in the hands of unpatriotic individual(s), group(s) or corporate bodies across the country remains unequivocal and unwavering," he said.