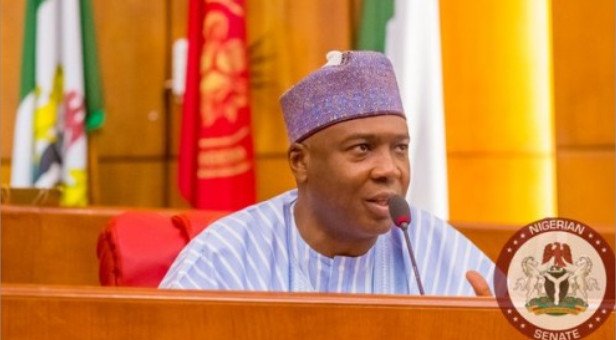 Sen. Ali Ndume, (APC-Borno South), says that Dr Bukola Saraki, President of the Senate, has no justification to retain the seat, since he has defected to the opposition party.
He said that Saraki should know that he was not supposed to retain the position of President of the Senate, saying that he could not "eat his cake and have it'.
Ndume, who stated this at the News Agency of Nigeria (NAN) Forum in Abuja on Sunday, said that Saraki lost all rights to retain the seat since he had defected to the Peoples Democratic Party (PDP).
He said the only thing that could save Saraki from being impeached and remain as President of the Senate, was a vote of confidence from his colleagues.
"I think that is the only thing he can do may be; he did that before, let him try it; let him call for vote of confidence from us, his colleagues.
"I assure you that he will not get the majority, "Ndume said, adding that he was disappointed in Saraki.
He described the statement credited to some politicians that Saraki could only be impeached by two third of members of the house, as not only wrong, but also a total misconception.
The Senator stressed that since Saraki decided to leave the APC for PDP, he should have left the position as he could not be in a minority party and be President of the Senate.
Ndume recalled that as minority leader in the House of Representatives when he defected to PDP from the All Nigeria Peoples Party (ANPP), he resigned from the position without being asked to do so.
He said it was natural that he left the position because he could not move from the minority to the majority and still be a minority leader.
He said Saraki could therefore, not move from majority to minority and still be the President of the Senate.
Ndume noted that there should only be one Senate President who is supposed to come from the majority political party, adding that it was an aberration and abnormal for someone in the minority to lead the majority.
"I am still thinking and hoping that Saraki will do the right thing and the right thing is for him to relinquish that position for the majority to preside," he said.
Saraki while leaving the APC in July on his twitter handle, said: "I wish to inform Nigerians that, after extensive consultations, I have decided to take my leave of the APC."
Saraki had alleged continued persecution as one of the reasons he was leaving the APC.
Mr Adams Oshiomhole, the APC National Chairman, while reacting to the development on Aug. 14, said that Nigerian Senate could not be subjected to minority rule.
He noted that there was nowhere in the world where minority had presided over majority in the house, adding that the honourable thing for Saraki to do after defecting to the opposition PDP, was to step down.