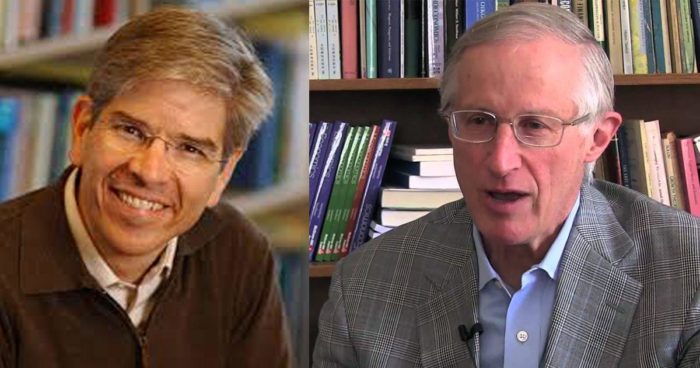 Americans William Nordhaus and Paul Romer, pioneers in adapting the western economic growth model to focus on environmental issues and sharing the benefits of technology, won the 2018 Nobel Economics Prize on Monday.
In a joint award that turned the spotlight on a rapidly shifting global debate over the impact of climate change, the Royal Swedish Academy of Sciences said the duo's work was helping to answer basic questions over how to promote long-term, sustainable prosperity.
Romer, of New York University's Stern School of Business, is best known for his work on endogenous growth, a theory rooted in investing in knowledge and human capital. He said he had been taken by surprise by the award, but offered a positive message.
"I think one of the problems with the current situation is that many people think that protecting (the) environment will be so costly and so hard that they just want to ignore them," he told a news conference via telephone. "We can absolutely make substantial progress protecting the environment and do it without giving up the chance to sustain growth."
He told reporters he had long ago decided he would never seek to win the prize because doing so can "tear you apart." He initially missed the early morning call from Sweden telling him he won before calling back, when he was asked if would accept the prize.
"'I didn't ever want it, but, yeah, I'll accept!'" he recalled replying at a separate news conference later at New York University.
Hours before the award, the United Nations panel on climate change said society would have to radically alter the way it consumes energy, travels and builds to avoid the worst effects of global warming. The panel declined to comment on Monday's award.
U.S. President Donald Trump has repeatedly called climate change a hoax, and last year announced that he would withdraw the United States from a global pact to combat it reached in 2015, calling the deal's demands for emissions cuts too costly.
Nordhaus, a professor of economics at Yale University, was the first person to create a quantitative model that described the interplay between the economy and the climate, the Swedish academy said.
"We overslept and when we got up, I got a nice call from my daughter," Nordhaus told Reuters at his home in New Haven, Connecticut. "She said, 'Dad, you won. It's so nice.' It was a really lovely call. It's a nice way to find out."
He said he was being honored for his work on carbon tax as a mechanism to reduce global warming. "It was for work on one of the most important problems the globe faces, which is climate change," he said. "I've been working on that for almost 40 years, and the time's ripe."
-Reuters

Load more