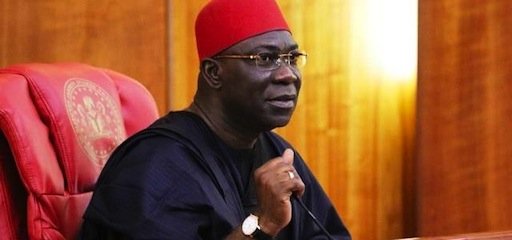 The Federal High Court Abuja has granted the Federal Government permission to serve criminal charges on Deputy Senate President Ike Ekweremadu through the Clerk of the National Assembly.
Justice Binta Nyako gave the order on Wednesday following a complaint from the government's counsel, Mr Celsus Ukpong, that Ekwerewadu had been evading the service of the criminal charges on him.
Ukpong had in two separate ex-parte motions, prayed the court to permit the service of the two-count criminal charge against Ekweremadu through substituted service.
He alleged that Ekweremadu had allegedly thwarted all efforts to serve him with the charge in order to formally start his trial.
The government had filed charges against Ekweremadu for allegedly refusing to declare his asset before the Special Presidential Investigation Panel for the recovery of public property.
In a related development, Justice John Tsoho, also of the Federal High Court, Abuja, has granted the government leave to serve criminal charges on Sen. Bassey Akpan, who represents Akwa Ibom North East Senatorial District.
Arguing an ex parte motion before the judge, Ukpong, the state counsel lamented that Akpan, also charged with failure to declare his assets, allegedly evaded service.
Ukpong also prayed the court for an order permitting the state to temporarily take over two buildings traced to Akpan pending the investigation of allegations of false asset declaration against him.
Justice Tsoho, while granting the order for substituted service, refused to grant the order for temporary forfeiture.
Justice Nyako adjourned Ekweremadu's matter until Oct. 22 while Justice Tsoho adjourned that of Akpan until Nov. 19 for mention.