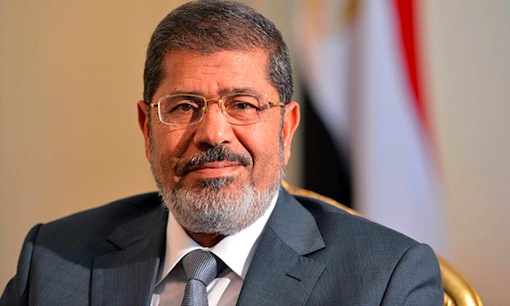 Egyptian police detained the youngest son of ousted former President Mohamed Morsi, from his home on the outskirts of Cairo on Wednesday, his brother and three security sources said.
Two security sources said Abdullah Morsi was arrested on charges of "spreading false news'', in connection with an interview he gave to the Associated Press news agency on Oct. 2, that focused on his father's detention.
Abdullah Morsi and an interview granted to the Associated Press news agency.
In the interview, Abdullah said his father's health had deteriorated due to prison conditions and that the family was rarely allowed to visit.
Abdullah's brother Ahmed said the police officers did not present an arrest warrant and said they were taking Abdullah for questioning.
An interior ministry spokesman could not immediately be reached for comment.
The former president, a senior figure in the Muslim Brotherhood, has been jailed since he was overthrown by the military in 2013, following mass protests against his rule.
Abdullah is the youngest of his five children. Another son, Osama, is also in prison and was among hundreds recently sentenced in connection with protests against Morsi's overthrow.
After Morsi's ouster, then-army chief and now President Abdel-Fatah Al-Sisi unleashed a fierce crackdown on the Brotherhood.
Al-Sisi's supporters say the president, who was re-elected in March, has been trying to combat an Islamist insurgency and restore order following years of chaos after "Arab Spring" demonstrations forced former president Hosni Mubarak to step down in 2011.