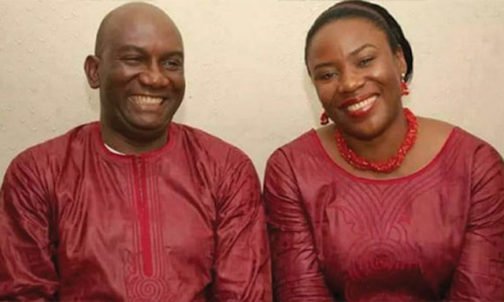 Akin Kuponiyi
Mrs Maureen Offor, a close friend of the female lawyer, Udeme Otike-Odibi, alleged to have murdered her husband, Symphorosa Otike-Odibi, in her evidence today told a Lagos High Court sitting in Igbosere south west Nigeria, that in the early hours of May 3, 2018 at about 12:04 a.m, she got a message (sms), from Udeme, that she has done something terrible that, she could no longer take it anymore.
Offor who claimed to be praying at that time the message alerted on her phone, said she abandoned the prayer and sent a message that "I thought you have packed your things for the trip and i have talked about these issues before, I thought we agreed that we should not take any action until later."
"Our agreement was that you should first travel and take care of your health, and come back later to address the relationship with your husband and see if the marriage will work out." She has thyroid.
The witness who is the fourth prosecution witness said that the defendant sent her a second message that said "I have tried", I left my prayer and started calling her, she didn't respond, that must have been 12:08 a.m.
Offor further told the court that after finishing her prayers around 12:30 a.m, she sent Udeme another message that read "you are not answering me, I sent again, she didn't respond, then I went to bed."
The witness who was being led in evidence by Ms Titilayo Shitta-Bey, the Lagos State Director of Public Prosecution, said that at 4 a.m, she got a call from the defendant's mum, that Udeme and Symphorosa have been in a fight, panicking that she doesn't know if she should come to Lagos.
"I told her that Udeme was billed to travel to the UK that morning that she should wait for me to make calls to know what is going on, I wanted to call Udeme's sister whom she was to live with in the UK, but I didn't have her number, then I tried a mutual friend of ours to ask if she had Udeme's sister's number, but she said no.
"So I then called Symphorosa's younger brother Andrew, that was around past 5am, he didn't pick, so I kept trying Udeme's number, then Andrew called and I apologised for calling him so early, he said that he thought it was a mistake. I told him that I received a call from Udeme's mum, he said he also received a similar call from his mum the previous day that Udeme and Symphorosa were fighting, so he said they are adults and should be able to resolve their issues," Offor said.
Offor continued that she and Andrew were saying she has a flight to catch, that she ought to have gone to the airport as it was getting late, then Andrew said he had already arranged for transportation for her.
According to the witness, "after I ended Andrew's call, Udeme's mum called and she was hysterical that Symphorosa was dead, I started screaming, too I wasn't hearing what she was saying anymore, it was my husband that came to collect the phone from me.
"My husband received the call from Udeme's mum that Symphorosa was dead and Udeme was taken to the hospital, she said she called Anwuli Symphorosa's sister, so I got her number from Udeme's mum and called her, she said that her brother is dead and Udeme has been taken to the hospital."
Offor who said she has known the defendant since 1992, when they were both employed by Diamond Bank, said she was also her Chief Bride's maid, when she wedded in 1996.
She also said that since they met in 1992, they have been close friends, adding that she has also known the deceased back in their university days at the University of Benin, Edo state
"I have Known the deceased for over 30 years, we met at Uniben and he was my elder brother's friend and was even my elder brother's best man when he got married in 1998,
"The deceased and the defendant got married in October 2014, I was present at their wedding, I was aware that they were having issues in their marriage and Udeme wasn't happy. I knew because she confided in me. Late last year, she told me was traveling to the UK, that she wants to take some time off," she said.
The witness further stated that there was a certain time the defendant told her that she wasn't happy the way she was being treated, adding that she didn't feel that Symphorosa was concerned about her health challenges.
"She had returned from the UK, before Easter and we met. She said Symphorosa wasn't eating at home, so she didn't bother to cook his food, I then advised her to be cooking for him even if it's a small portion."
"On May 2, 2018, I saw Udeme, she had called me in the morning and asked me to come and assist her in packing her things, so I drove to their Estate at Diamond Estate Sangotedo. We packed all the things she needed for the trip and we went to get some things from Shoprite and also watched a movie."
The presiding Judge Adedayo Akintoye has adjourned till October 30 for continuation of trial.
The defendant, Udeme Otike-Odibi, 48, was arraigned before the court early this year for killing her 52-year-old husband, Symphorosa Otike-Odibi, and also chopping off his penis.
Udeme was arraigned by the Lagos State Government on a two-count charge of murder and misconduct with regard to a corpse.
She however pleaded not guilty to the charge.
The Lagos State Prosecutor, Mr Sunmonu Babatunde, had told the court that the accused committed the alleged offences on May 3, at Diamond Estate, Sangotedo, Lekki, Lagos.
He said that the accused stabbed her husband and mutilated his corpse by cutting his genitals.
The offences contravened Sections 165 (b) and 223 of the Criminal Law of Lagos State, 2015 and Section 165 (b) provides five-year imprisonment while Section 223 is punishable by death.
Justice Adedayo Akintoye, however remanded the accused in prison and adjourned the case for trial