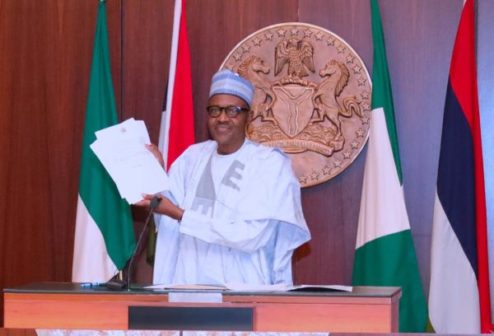 Two lawyers, Ikenga Ugochinyere and Mr. Keneth Udeze have lost their bid to challenge the Executive Order No.6 issued by President Muhammadu Buhari and which provides for the interim seizure of assets linked to ongoing criminal trials and investigations.
Justice Ijeoma Ojukwu, dismissed the suit for lacking merit and ruled that the President has the constitutional powers to issue the order as long as it does not encroach on the principles of separation of powers.
She ruled that the executive order was issued as a policy directive for the implementation of provisions of existing laws.
It also recognises the right of every citizen to approach the court for redress if aggrieved by its enforcement.
She also held that the interim forfeiture of assets linked to various offences or ongoing criminal investigations could only be enforced in line with the provisions of the law and did not amount to an infringement of the rights of the affected person.
Buhari had on July 5, 2018, issued the Presidential Executive Order 006, to restrict dealings in suspicious assets subject to investigation or inquiry bordering on corruption in order to preserve such assets from dissipation, and to deprive alleged criminals of the proceeds of their illicit activities which can otherwise be employed to allure, pervert and/or intimidate the investigative and judicial processes.
"Or for acts of terrorism, financing of terrorism, kidnapping, sponsorship of ethnic or religious violence, economic sabotage and cases of economic and financial crimes, including acts contributing to the economic adversity of the Federal Republic of Nigeria and against the overall interest of justice and the welfare of the Nigerian State,'' he added.