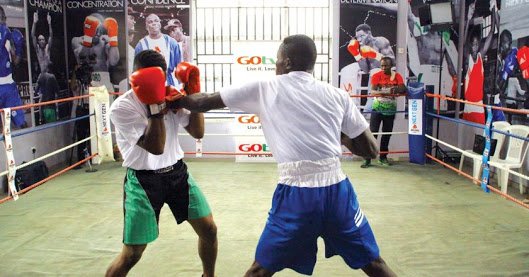 Opeyemi `Sense' Adeyemi on Sunday night dazzled spectators with his scintillating foot work and punches to win the N1.5 million Mojisonaya Ogunsanya trophy for the best boxer of the 16th edition of GOtv Boxing Night
Arguably the best boxer of the night, Adeyemi, 18 with is scintillating moves, jabs and poise gave the audience a night to remember, defeating Sherif 'Oshe' Ogunbanjo, 25, in a bantamweight bout.
After four rounds of pound for pound duel with Ogunbanjo, the three ringside judges scored the fight, 39-37, 40-37, 39-37 in favour of Adeyemi.
Adeyemi, who was having his first professional fight, was able to counter fast punching Ogunbanjo who could have done better using his longer reach.
The teenager told the News Agency of Nigeria (NAN) after his victory that he was proud of the moment and was glad to be victorious at the end of the fight.
"I am so happy about this fight, I thank all my fans for the support, and it did not come easy because Ogunbanjo was also determined to get something out of the fight.
"I saw he was taller and older, but I did not allow that to get to me, I just focused on my strength, my qualities and at the end I was victorious.
"I really thank GOtv for giving me the opportunity to follow my dreams that I can earn a living through boxing,''Adeyemi said.
Commenting on the fight, Ogunbanjo said Adeyemi was a very stubborn and very brave boxer.
"It's a sad loss for me, I feel very bad, because I know I did everything possible to beat Adeyemi, but he was stubborn and very brave but I have to move on.
"Next time I will be better prepared and especially now that I know my weakness and some of the mistakes that made me lose,'' Ogunbanjo said.
Also, Rafiu Ladipo, the President, Nigeria Boxing Board of Control (NBB of C), said that many undiscovered good boxers like Adeyemi abound across the country.
He said that with more investments in boxing and other sports many other talents would be discovered.
"I am so proud of what I saw as Adeyemi showed quality, perfection and total understanding of what was required of him to do to win legitimately on the ring.
"He is indeed a brilliant boxer and would go many places if he keeps his head and continue to work extra hard, the future is very bright.
"There are many other talents like him, begging to be discovered, if you recalled he was discovered at the GOtv Next Gen Search which held recently in Abeokuta.
"With more companies investing funds into sports and entertainment, Nigeria would indeed be a better place for our youths,'' Ladipo said.
In the eight other fights of the night, Waheed 'Showmax' Shogbamu wasted no time in defeating Azeez 'who say so' Tijani in round one to win the light welterweight challenge.
Also, Adeyemi `Spirit' Adekanla was adjudged the winner of the fight with Ganiu Kolawole by a split decision in a very closely contested bout in their national light welterweight challenge bout.
Taiwo 'Esepo' Agbaje also stunned the audience with his dramatic no nonsense approach that reduced his opponent, Tope 'TP Rock' Musa to a punching bag in their national light weight challenge fight.
He recorded a 60-53, 58-56 and 56-54 over his opponent to launch himself to victory.
Aminu `Lucky boy' Akintayo crushed Mutiu `Machine' Fatai, 40-37, 49-47, 40-45 in their national super flyweight challenge.
Crowd favourite, Kabiru 'KB Godson' Towolawi was finally floored in a six round by a technical knockout by Adewale `Masevex' Masebinu in their national heavyweight title.
Masebinu, who finally avenged his initial loss when they last met , is now the newly crowned national heavyweight champion.
Oto 'Joeboy' Joseph of Nigeria stopped Emmanuel Mensah of Ghana in the sixth round of action in their international lightweight title challenge.
In another international title challenge, Rilwan 'Realone' Oladosu of Nigeria beat Benjamin Lamptey of Ghana to retain his West Africa Boxing Union lightweight title.
Lamptey, who also gave a good account of himself, had pushed Oladosu till the final round, but was adjudged not good enough to stop the champion.
The three judges by the ring scored the fight 99-92, 99-90 and 100-91 in favour of Oladosu.
The event was held at the Indoor Hall of the Teslim Balogun Stadium in Surulere, Lagos.