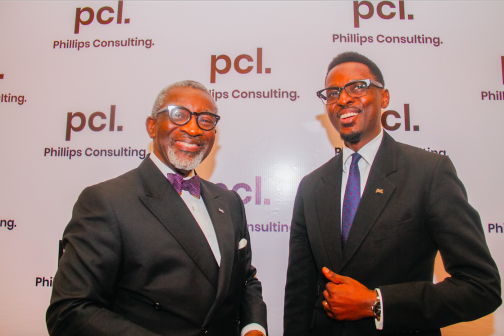 Leading provider of transformation, technology and outsourcing services, Phillips Consulting, has undergone a brand refresh and unveiled a new logo and positioning that support its vision to be the leading firm for transformation, technology and outsourcing in Africa.
On the 18th of October, Phillips Consulting unveiled the new logo at the October edition of the Nigeria South Africa Chamber of Commerce Event.
The Chairman of the Phillips Consulting group, Mr. Foluso Phillips, presented to the business community the new Managing Director of the Firm, Mr. Robert Taiwo, who has been overseeing its affairs since the beginning of the year.
Mr. Taiwo is a qualified lawyer with an MBA in Strategy and Change Management from Warwick Business School. He started his career in Investment Banking, spending 7 years at Commerzbank AG in the City of London. Thereafter, Mr.Taiwo moved to Capgemini Consulting, London, to help build their Financial Services business.
As a consultant, he led numerous high-profile assignments of FTSE 100 companies, leading multinationals and The British Government. Mr Taiwo has also consulted for HSBC, Bank of Ireland, British Petroleum, SAB Miller, British American Tobacco, Her Majesty's Revenue & Customs, Department for Works & Pension, The UK Cabinet Office, The Lagos State Government, The Commonwealth Secretariat, Diageo (Guinness, Nigeria) amongst others.
Commenting on the brand refresh, Managing Director, Mr. Robert Taiwo said: "Our new brand is a representation of who we are and where we are headed. It presents the human face of consulting and how we work collaboratively to support our clients in transforming possibilities. How we take them on a journey to deliver tailored solutions in a personal, impactful and sustainable way. With a clear focus on implementation and results.
To be frank, Phillips consulting is designed to deliver beyond the report and this is pretty unique in the consulting business."
Mr Taiwo also explained the new definition of the firm, where its major service offerings will be in Strategy and Operations Transformation, Digital and Technology Consulting and People Transformation. He reiterated that "at Phillips Consulting, we are inspired by the challenge of transformation and passionate about the power of people. We have a people focused approach to driving organisational transformation and have been doing this since the inception of the firm. Now we are going to take it to another level."
About the new brand identity, Mr Taiwo continued, "we wanted to refresh our brand, whilst not taking it away from the strong name reputation we have built over the years. Mr. Phillips also wanted to create an identity that would begin to separate him from the institution he has built by de-emphasising his name and changing the name to PCL, which also created the flexibility to do more exciting things beyond the label of consulting."
Since taking the reign of leadership, Mr Taiwo has designed and managed the transformation initiatives taking place at Phillips Consulting and revised the firm's strategy for the future. As part of this transformation, the firm has changed its brand identity.
Whilst Chairman of PCL, Mr. Phillips, has rapidly stepped down from the operational activities of the firm, he will continue to see to the internal development of the firm's consultants and focus on executive capacity building and mentoring.
Mr. Phillips added, "we are quite excited at this new phase in the life of our 26 year old firm. It is personally refreshing for me, to see my vision of building a sustainable institution to outlive us all, becoming a reality. With Robert at the helm of affairs and his redefinition of the firm as personified by a simple but refreshed brand image, I feel that a new generation is being truly born at Phillips Consulting. I believe there are exciting times ahead for us and our innumerable clients"
The 6th edition of the Nigeria South Africa Chamber of Commerce (NSACC) breakfast event, chaired by Mr Phillips, was sponsored by Phillips Consulting. The NSACC is a forum for the encouragement of the Nigeria/South Africa bilateral trade and industry. Though, acting like a normal bilateral chamber of commerce, NSACC retains its status of a private organizations limited by guarantee.
The event was also attended by some of Phillips Consulting's top management, including, Associate Partner, Dele Phillips, Senior Partner, Strategy and Operations Transformation, Mr. Francis Buamah, Senior Partner, Strategy and Operations Transformation, Senior PartnerMr. KolawoleOlowookere and Senior Partner, People Transformation, Mr. Paul Ayim.
Minister of Power, Works and Housing, Mr Babatunde Raji Fashola, delivered the keynote on the theme: "The True Situation of Electric Power in Nigeria Today and Prospect for the Future." Mr. Fashola's keynote focused on where Nigeria is regarding power and the prospects for the future.
"Power Generation capacity has hit 7,000mw but the distribution companies have captured 5,000mw and there is 2,000mw still untapped. Through the Eligible Customer Regulation Plan, we have engaged some industries who want to access power".
Other distinguished personalities were, Mr. Jimi Agbaje, Founder and Chairman of Honeywell Group, Oba Otudeko, President of Nigeria America chamber of Commerce, Chief Olabintan Famutimi.
Load more