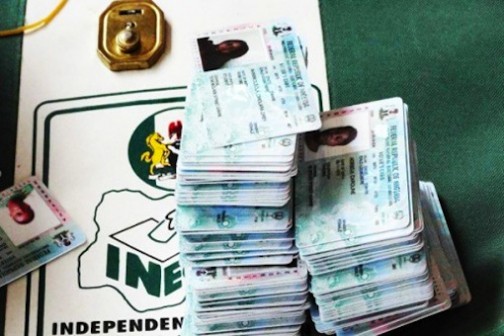 The Independent National Electoral Commission (INEC) in Adamawa says it has 288,043 unclaimed Permanent Voter Cards.
Kasim Gaidam, the electoral commissioner in the state, disclosed this at a news conference in Yola.
Gaidam expressed concern over the development and attributed the situation to lack of proper voter education and enlightenment.
"We have a total of 288,043 uncollected Permanent Voter Cards out of which 164,409 cards are for 2017 and 2018 registrations. " Gaidam said.
He noted that currently, there were 425,252 authentic registered voters in the state.
He, however,appealed to those who registered and yet to collect, to come forward and collect their cards.
On the recently concluded party primaries, he said the commission monitored 16 political parties in the state.
On the use of political thugs for election purposes, he advised the political parties to educate thier candidates and also recruit educated party agents and well informed youths as agents instead of illiterate thugs.

Load more